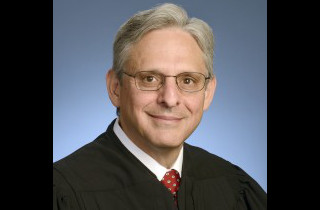 The Supreme Court closed out its current term on Monday by handing down a pair of major rulings, including the decision to strike down a Texas abortion law and the unanimous decision to throw out the conviction of former Virginia Gov. Bob McDonnell.  With the end of a Supreme Court term that saw four 4-4 splits as a result of being down one Justice since the sudden death of Antonin Scalia in February, LawNewz.com figured now was a good time to check in on the status of Supreme Court nominee Judge Merrick Garland.
While there are various counts put out by other media organizations regarding the number of Republicans Senators that have met with Judge Garland, it appears as though most, if not all, of those counts are out of date.  As of the information available on Monday, it appears as though at least 16 GOP Senators have at least met with Judge Garland.
Sen. Mark Kirk, in a tough re-election fight in Illinois, was the first GOP Senator to agree to a formal sit down meeting with the nominee.  Kirk has even gone a step further than many of his other GOP colleagues in actually calling on the Senate Judiciary Committee to hold full nomination hearings, and then possibly a full vote on the Senate floor.
Sen. Susan Collins has also called on her Republican colleagues to not only meet with Judge Garland, but also to proceed with confirmation hearings. "The next step, in my view, should be public hearings before the Judiciary Committee so that the issues that we explored in my office can be publicly aired," Sen. Collins told reporters in April after her meeting with Judge Garland.
Another Republican Senator in a tough re-election battle is Sen. Ron Johnson who will face off against former Wisconsin Senator Russ Feingold in November.  Sen. Johnson met with Judge Garland in May, but he does not believe the Senate should act until a new President is elected. "Instead of a lame duck president and Senate nominating and confirming, a new president and Senate — elected by the people only a few months from now — should make that important decision. I can't think of a fairer or more democratic process," Johnson said.
Oklahoma Republican Senators Jim Inhofe and James Lankford met with Judge Garland to thank him for his work on the Oklahoma City Bombing case, but they said they would not push further for hearings until a new president is elected.
Arizona Republican Senator Jeff Flake has probably given the most interesting (and honest) response to date on issue of Judge Garland's nomination.  In addition to meeting with Garland, Flake recently said that if it becomes clear Democrats will win the nomination in November, Republican Senators should act quickly to push Garland's nomination through.  "But if we come to a point… where we're going to lose the election in November, then we ought to approve him quickly, because I'm certain he'll be more conservative than a Hillary Clinton nomination," Flake said on Meet the Press.
Perhaps the second most important Senator when it comes deciding whether to hold confirmation hearings is Sen. Chuck Grassley of Iowa, Chairman of the Senate Judiciary Committee. Grassley met with Garland in April for over an hour, but said it was only to inform him there would be no hearings.
A few days after the meeting, Grassley wrote an op-ed in the Des Moines Register in which he argued, "So, despite hyperbolic rhetoric, the court will continue to function."  He also explained that he believed concerns over 4-4 splits were exaggerated. "As Justices Breyer and Alito have said recently, the court can deal with a vacancy and continue its work. It can order a case to be reargued after the vacancy is filled. It can reschedule a case for a later time. It can reach an evenly divided decision and resolve the issue another day," Grassley wrote.
The remaining nine Republican Senators that could confirm and have also actually met with Judge Garland include:  Sen. John Hoeven of South Dakota; Sen. Lisa Murkowski of Alaska; Sen. John Boozman of Arkansas, Sen. Mike Rounds of South Dakota, Sen. Orin Hatch of Utah; Sen. Lindsey Graham of South Carolina; Sen. Kelly Ayotte of New Hamnpshire; Sen. Rob Portman of Ohio; and Sen. Pat Toomey of Pennsylvania.
Kansas Senator Jerry Moran initially said that he supported hearings, only to reverse himself a few days later.  It is unclear if he ever met with Judge Garland.  Sen. Marco Rubio of Florida also initially committed to meeting with Judge Garland, only to change his mind several weeks later.  It is also unclear if he ultimately met with Judge Garland.
The decision to move forward with hearings and a vote is ultimately up to Senate Majority Leader Mitch McConnell, who reaffirmed as recently as a few weeks ago that he was not backing down and the Senate would not hold confirmation hearings on the Judge Garland nomination.
Several media outlets, including the Washington Post last week reported the Supreme Court's 4-4 split on Obama's immigration executive action is likely seen by Republicans "as vindication of their decision to not consider Merrick Garland's nomination to the Supreme Court."  The 4-4 split leaves in place the 5th Circuit ruling that held Obama exceeded his powers.
The Post's report also included this tweet from Republican Senator Richard Shelby, who is against Judge Garland's nomination:
It also underscores the importance of electing a POTUS in Nov. who will put a conservative on the Court to defend our Constitution.

— Richard Shelby (@SenShelby) June 23, 2016
On the other hand, the immigration brought out strong rebuke's from Democrat Senators, including Chuck Schumer:
The responsibility for the legal limbo that results from a deadlocked court lies solely with Senate Republicans. #DoYourJob

— Chuck Schumer (@SenSchumer) June 23, 2016
Senate Democrats, along with the White House, have sought to apply political pressure on Republicans for refusing to consider the nomination, but thus far, it does not appear to have had much on an effect — outside the few tough Senate reelection races mentioned at the beginning of this article.  
President Obama also spoke out after last week's ruling, again trying to whip up support to make the Republicans refusal to act on Garland politically unacceptable, but it appears the strategy is not working as intended.   
As The Post article concludes, "It could also mean that most Americans just don't care enough to make a full, nine-person Supreme Court one of their top issues at the ballot box in November." 
This is probably an accurate conclusion.  Outside of a few major opinions per year (or every few years), the Supreme Court is rarely on the mind of the average voter.  
Given the current circumstances, however, this might change as the public's attention is focused more on the general election after next month's party conventions.  The Supreme Court vacancy will likely be a major issue throughout the presidential campaign.  Although, with the Court in recess for essentially the remainder of the presidential race, there will likely be no real urgency to get anyone confirmed before the November elections.  
In order to get a nominee confirmed, the Senate would first need to proceed with hearings and a floor — something Sen. McConnell would essentially have to sign off on.  Senate Judiciary Committee Chairman Chuck Grassley would then call for formal confirmation hearings, where Judge Garland would appear and take questions from the Republican and Democratic Members of the Judiciary Committee.  The Committee would then vote on whether to send the nomination to the floor for a full vote.  A nomination can make it out of committee by a simple majority vote, however, in the past the committee has attached a favorable, unfavorable, or no recommendation to certain nominations.  If the nomination makes it out of the Committee, it still may be filibustered on the Senate floor unless there are 60 votes to invoke cloture, ending debate and forcing a vote.  A Supreme Court nomination can then pass by a simple majority vote.
President Obama is also allowed to withdraw his nominee at anytime before the actual confirmation vote.  This has led to speculation that President Barack Obama may withdraw Judge Garland's nomination if a Democrat wins the White House in November.  However, President Obama has stated he will not withdraw the nomination, even if a Democrat wins the White House in November.  In that case, some believe Senate Republicans will follow Sen. Flake's advice and hurry to rush through Judge Garland's nomination in the lame duck session.        
Have a tip we should know? [email protected]