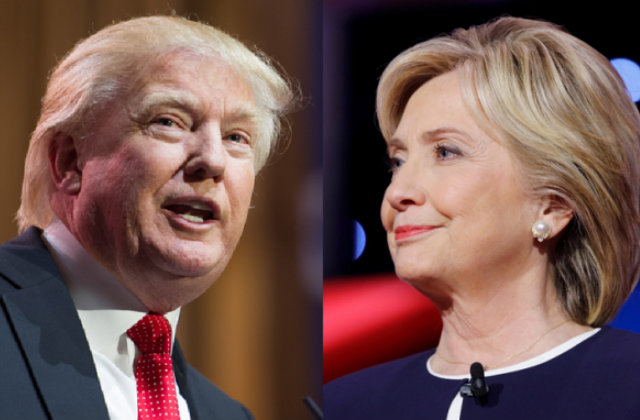 Did Hillary Clinton lie to the FBI in her July 2016 meeting with the agency? President Donald Trump takes it as a fact. He's been making that claim on Twitter and in conversations with reporters, after his former National Security Adviser Michael Flynn pleaded guilty Friday to lying to the feds.
So General Flynn lies to the FBI and his life is destroyed, while Crooked Hillary Clinton, on that now famous FBI holiday "interrogation" with no swearing in and no recording, lies many times…and nothing happens to her? Rigged system, or just a double standard?

— Donald J. Trump (@realDonaldTrump) December 3, 2017
Except there is no evidence this happened, according to the agency. The FBI was investigating Clinton's alleged mishandling of classified emails on a private server when she was Secretary of State. Then-Director James Comey testified to the House of Representatives on July 7, 2016.
"We have no basis to conclude she lied to the FBI," he said. "I have no basis for concluding that she was untruthful with us."
In that same hearing, Comey did not recommend charges against Clinton, but said she or her colleagues were "extremely careless" in how they handled classified information.
Trump did not substantiate his claim that Clinton lied. The White House did not immediately respond to a Law&Crime request for comment.
There is a whole political dimension to this unverified allegation. In times of crisis, our president has a habit of bringing up his old Democratic rival. The investigation into Clinton's emails weighed down her presidential campaign with the possibility she could face a criminal charge.  Special Counsel Robert Mueller is investigating Russian interference in the 2016 election, and that includes whether the Trump campaign helped out the Kremlin. In a report declassified in January, U.S. intelligence officials said the Kremlin directed cyberattack efforts to help the president win the race. When Flynn pleaded guilty, he promised to cooperate with this investigation in return for a light sentence.
The email probe punctured Clinton's campaign. Months later, the collusion investigation has grown into a huge optics problem for the Trump administration, even if Special Counsel Robert Mueller never files charges against any current White House official.
[Images via Shutterstock]
Have a tip we should know? [email protected]