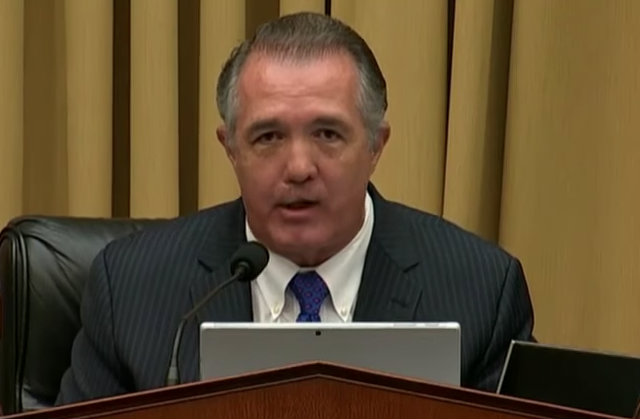 These past months brought a deluge of claims that various, powerful men had long histories committing sexual misconduct, from rape on down. Friday brought another claim, and it has a weird wrinkle in it. A House complaint said that Rep. Trent Franks made romantic advances against his female staffers, and retaliated against those who turned him down, according to a POLITICO report. Franks has denied the allegations. But we couldn't help but share this one odd detail:
A former staffer also alleged that Franks tried to persuade a female aide that they were in love by having her read an article that described how a person knows they're in love with someone, the sources said.
What?
Franks announced his resignation Thursday in anticipation of claims against him. He said he simply asked staffers to serve as surrogate mothers on behalf of his wife. The congressman already had twins via a surrogate.
"Due to my familiarity and experience with the process of surrogacy, I clearly became insensitive as to how the discussion of such an intensely personal topic might affect others," he wrote. "I have recently learned that the Ethics Committee is reviewing an inquiry regarding my discussion of surrogacy with two previous female subordinates, making each feel uncomfortable. I deeply regret that my discussion of this option and process in the workplace caused distress."
He said the House Ethics Committee was going to investigate him, but he was going to resign come January of next year, since he worried he wasn't going to get a fair investigation. He ended up stepping down from his seat in Arizona's 8th District today.
Also today: A former Franks aide told the AP the congressman offered her $5 million to have his baby.
BREAKING: AP Exclusive: Former aide says GOP Rep. Trent Franks offered her $5 million to carry his child.

— The Associated Press (@AP) December 8, 2017
Sexual misconduct allegations have been haunting politicians on both left and right. Rep. John Conyers and Sen. Al Franken, both Democrats, stepped down amid allegations. The House Ethics Committee will investigate Franks' fellow GOPer, Texan Blake Farenthold, for allegedly sexually harassing a staff member and retaliating against her.
[Screenbgrab via Fox Business]
Have a tip we should know? [email protected]