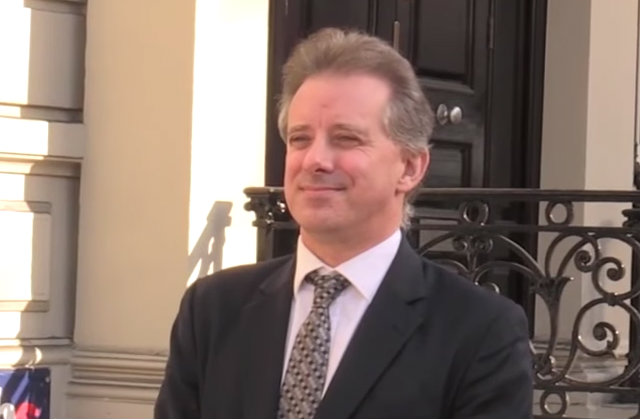 Republican Senators Chuck Grassley (R-Iowa) and Lindsey Graham (R-South Carolina) of the Judiciary Committee told the DOJ and FBI to investigate Trump dossier author Christopher Steele for lying to federal authorities, according to a letter obtained by The New York Times.
"Based on the information contained therein, we are respectfully referring Mr. Steele to you for investigation of potential violations of 18 U.S.C. § 1001, for statements the Committee has reason to believe Mr. Steele made regarding his distribution of information in the dossier," they wrote.
The message, dated Thursday and sent Friday, included classified information that remains unpublicized, so it remains unclear under which circumstances Steele allegedly broke the law.
The Judiciary Committee is investigating Russian interference in the 2016 presidential election, but this has devolved into a political mess since these probes involve whether the Trump campaign colluded in this efforts. The president called the allegations a "witch hunt" by Democrats and GOP politicians often singled out Steele's salacious dossier, especially after it turned out that lawyers for the Hillary Clinton campaign and Democratic National Committee commissioned firm Fusion GPS to do the research.
The company criticized Grassley and Graham for writing the letter. They construed it as a smear meant to confused the probe into Moscow's action.
"Publicizing a criminal referral based on classified information raises serious questions about whether this letter is nothing more than another attempt to discredit government sources, in the midst of an ongoing criminal investigation," Fusion attorney Joshua A. Levy told the Times. "We should all be skeptical in the extreme."
Research originally started during the GOP presidential primary. The conservative Washington Free Beacon said they funded Fusion GPS to do work on Trump, but insisted that none of the findings ended up in the dossier itself.
The dossier was also used to attack the special counsel's Russia probe, which originally began under FBI Director James Comey in 2016. It was claimed that it started because of the Steele dossier's unverified claims, but the Times recently reported that according to sources, it's because Trump campaign adviser George Papadopoulos told an Australian diplomat over drinks that Russia had dirt on Clinton. That claim later made its way to U.S. intelligence officials through Aussie authorities.
18 U.S.C. § 1001 makes it illegal to lie to federal authorities. This is the same statute to which Papadopoulos and former National Security Adviser Michael Flynn pleaded guilty to in the Russia probe.
[Screengrab via CBS]
Have a tip we should know? [email protected]