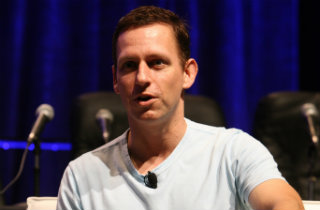 On Tuesday, Gawker Media, the largely defunct media company that recently sold most of its assets to Univision at auction, filed a new motion as part of its bankruptcy proceedings, and it's a doozy. Citing Rule 2004 of federal bankruptcy law, Gawker is asking the judge to allow them to conduct discovery into billionaire Peter Thiel's role in funding litigation into the company. Thiel admitted funding Hulk Hogan's (real name Terry Bollea) invasion of privacy lawsuit against the bankruptcy, and that suit, combined with Florida law allowing collection of a judgment before appeals, is what led directly to Gawker filing.
In the motion, Gawker's lawyers make some interesting arguments. According to Cornell University Law School's page on Rule 2004 Examinations, the rule can be invoked to research "only to the acts, conduct, or property or to the liabilities and financial condition of the debtor, or to any matter which may affect the administration of the debtor's estate, or to the debtor's right to a discharge."
Hogan and two others who are suing Gawker are the company's largest unsecured creditors. They're all represented by the same lawyer, Charles Harder, whose firm Gawker believes to be working directly with Thiel in his revenge plot (and they're not the only ones). From the motion:
Indeed, Mr. Thiel's activities and those of Mr. Harder's firm (who would appear to be the "team of lawyers" that Mr. Thiel is reported to have retained years ago) have continued, including into these chapter 11 cases and have been arguably timed to affect the sales proceeds that Debtors could obtain in the auction. For example, just days after the filing of the Gawker Media chapter 11 case, Gawker Media received a cease and desist letter from Mr. Harder asking it to remove a story about Donald Trump's $60,000 hair treatments.

[…]

This apparently coordinated conduct continued while the Debtors were working to sell their business in order to maximize the value of their estates. The day before the Debtors were to conduct the bankruptcy auction, Mr. Thiel published a New York Times op-ed proclaiming that he would "support [Mr. Bollea] until his final victory."

[…]

Then, less than a week after the highly successful chapter 11 auction (increasing the purchase consideration by over 50%), Mr. Harder sent four cease and desist letters to Univision, the proposed buyer. While they purported to be from separate clients of Mr. Harder's firm, they were sent to Univision in a single email.
Gawker is seeking, among other types of documents: Litigation finance agreements between Thiel Harder's firm and/or any of Harder's clients, communications about said agreements, correspondence about any non-Harder clients being assisted (at least one Gawker litigant has admitted to getting free assistance from Harder), and so on. It will be interesting to see how this plays out in bankruptcy court, and it shouldn't be long before a hearing a scheduled to address the matter.
[Photo: Wikimedia Commons]
Have a tip we should know? [email protected]