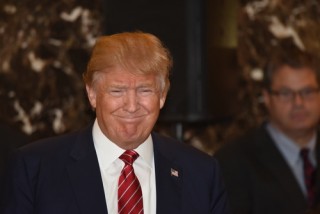 New documents unsealed in the class action lawsuit against Donald Trump and Trump University paint a very unflattering picture of the school.  Trump's attorneys fought to keep the documents sealed, but federal Judge Gonzolo Curiel ordered them released on Friday.
The case, Art Cohen v. Donald J. Trump, was filed in 2013 and basically claims that students were "hoodwinked" by the deceptive business practices at Trump University.
In a newly released affidavit, Ronald Schackenberg, a former sales rep, talks about the high pressure tactics used to lure students:
In my experience, the primary goal of Trump University was not to educate students regarding real estate investing. The primary focus seemed to make money as quickly and easily as possible … From the very beginning, Trump University speakers told students to raise their credit limits so they could be ready to purchase real estate. In fact, the speakers then told students to use their increased credit limits to purchase the next level of Trump University … I believe that Trump University was a fraudulent scheme, and that it preyed upon the elderly and uneducated to separate them from their money.
The New York Times reports that Donald Trump owned 93 percent of the business, which was started in 2005. The documents also contained an internal employee "playbook"which  gave rules about what to say to  potential customers who may have maxed out their credits. "We teach the technique of using OPM … Other People's Money," the guidelines read.
Trump University "sales playbook" advised what to say when a potential customer has maxed out on credit cards pic.twitter.com/kA3TJ7bbyA

— Jacob Gershman (@jacobgershman) May 31, 2016
Donald Trump's representatives have said that these complaints "emanated from a small number of former students and that the vast majority had offered positive reviews of their experience," according to The New York Times. 
"Trump University looks forward to using this evidence, along with much more, to win when the case is brought before a jury," Hope Hicks, a campaign spokesperson, said in a statement to the newspaper.
Over the weekend, Trump went on a tear disparaging the judge overseeing the case for being a Trump 'hater', and brought attention to his background saying he was 'Mexican.'
The Washington Post's attorneys filed a motion to unseal documents in the case including a 2009 Trump University 'playbook'. The newspaper's attorneys argued that the documents were of 'public interest.'
Have a tip we should know? [email protected]
Rachel Stockman - President / On Air Host