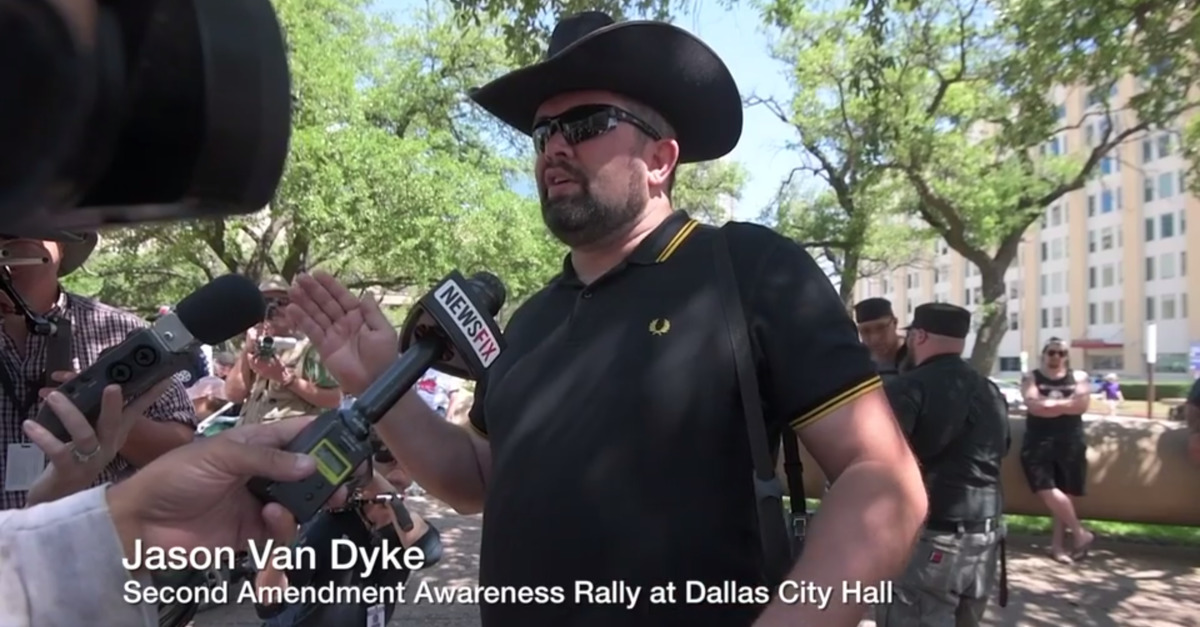 Jason Lee Van Dyke is the former lawyer and leader of the far-right Proud Boys group. On Tuesday morning, he accepted a plea deal for filing a false police report, according to a source familiar with the case and a final judgment obtained by Law&Crime.
The 38-year-old Van Dyke was arrested last September and charged with filing a false report over allegations that he lied to investigators about several different guns and camera equipment allegedly stolen from his truck.
Another report filed by the owner of the camera equipment–Van Dyke's roommate; who has only been identified as Isaac–called the original story into question and Van Dyke quickly changed his tune, telling police some of the guns had been recovered. Isaac, however, said none of those guns had reappeared. Van Dyke was charged with filing a false statement a few days after reporting the burglary.
As Law&Crime previously reported, Van Dyke's trial was put on indefinite hiatus late last month after the lead witness in the case–Isaac–mysteriously disappeared.
Prosecutors weren't convinced anything untoward had occurred.
"We don't believe any foul play took place, we just can't find him," Denton County First Assistant District Attorney Jamie Beck said. "We can't find him to serve him with a subpoena to let him know he's supposed to testify."
This version of events has been hotly disputed by one person who has a history with Van Dyke.
"Van Dyke made the witness disappear in this case," Tom Retzlaff told Law&Crime. "He used his dad to scare the guy off."
Retzlaff was previously sued by Van Dyke for defamation after the former got the latter fired from a job with the Victoria County District Attorney's Office over Van Dyke's beliefs.
In an email, Retzlaff told Law&Crime that Denton County prosecutors submitted a jailhouse recording of a phone call between Van Dyke and his father into evidence as part of "their motion pertaining to Van Dyke's tampering with a witness." Retzlaff also provided audio of this recording to Law&Crime.
In that recording, the man identified as "Jason Van Dyke" addresses the man he calls "Dad" and tells him to call Isaac. Near the end of their conversation, Van Dyke says: "Tell him don't be–if he's at my house–don't be answering the door and..make himself scarce."
Denton County prosecutors confirmed the authenticity of said recording but disputed Retzlaff's characterization of the call.
"We do not know the whereabouts of Isaac [because] once we [received] the forfeiture by wrongdoing finding by the court that meant that we no longer needed to have him served so we stopped trying," Beck said via email. "A jail call was submitted during that hearing where the defendant was speaking with his father about telling Isaac to lay low and that he could not come to court. There were no threats whatsoever made. The defendant knew that his father was communicating with Isaac."
Law&Crime attempted to reach out to Van Dyke's father, but no response was forthcoming at the time of publication. After this story was published, Daniel Van Dyke provided the following statement: "I do not know any details about the plea agreement. To assert there was witness tampering is absurd, particularly since Jason did not commit the thing he was charged for."
Van Dyke himself also reached out via email.
"There was absolutely no witness tampering in my case by either me or my father," he wrote. "Period."
Per the terms of Tuesday's plea agreement, Van Dyke must register with Denton County's Community Supervision and Corrections Department. He'll be forced to complete 60 hours of community service as part of a deferred adjudication program. If all conditions are satisfied, then the misdemeanor false report charge won't go on Van Dyke's record as a criminal conviction.
A lawyer by trade, Van Dyke was suspended by the State Bar of Texas late last week for allegedly threatening to kill Retzlaff.
Van Dyke was later arrested for those alleged threats on Retzlaff's life. A warrant issued by Denton County and obtained by Law&Crime accused Van Dyke of obstruction of justice and witness tampering for those alleged emailed threats. He faces up to ten years in prison on those charges.
His bail conditions prohibit the ownership of any and all firearms, mandate psychiatric counseling and drug testing and prohibit any use of alcohol. Geographic restrictions prohibit Van Dyke's movement to counties contiguous with Denton. He's also barred from contacting Retzlaff.
Notably, Denton County prosecutors also identified Van Dyke "as belonging to an extremist group, with numerous followers across the country, on which he may be able to rely on as a resource to carry out his threats, or assist him in absconding from this jurisdiction."
The Proud Boys are a transnational group that has regularly engaged in acts of political violence across the country. Several members of the Proud Boys also took part in the deadly "Unite the Right" rallies in Charlottesville, Virginia–which ultimately claimed the life of 32-year-old socialist Heather Heyer.
Judgment Van Dyke on Scribd
[image via screengrab/Fort Worth Star-Telegram]
Editor's note: this story has been amended post-publication to include additional details and responses from Van Dyke and his father.
Have a tip we should know? [email protected]