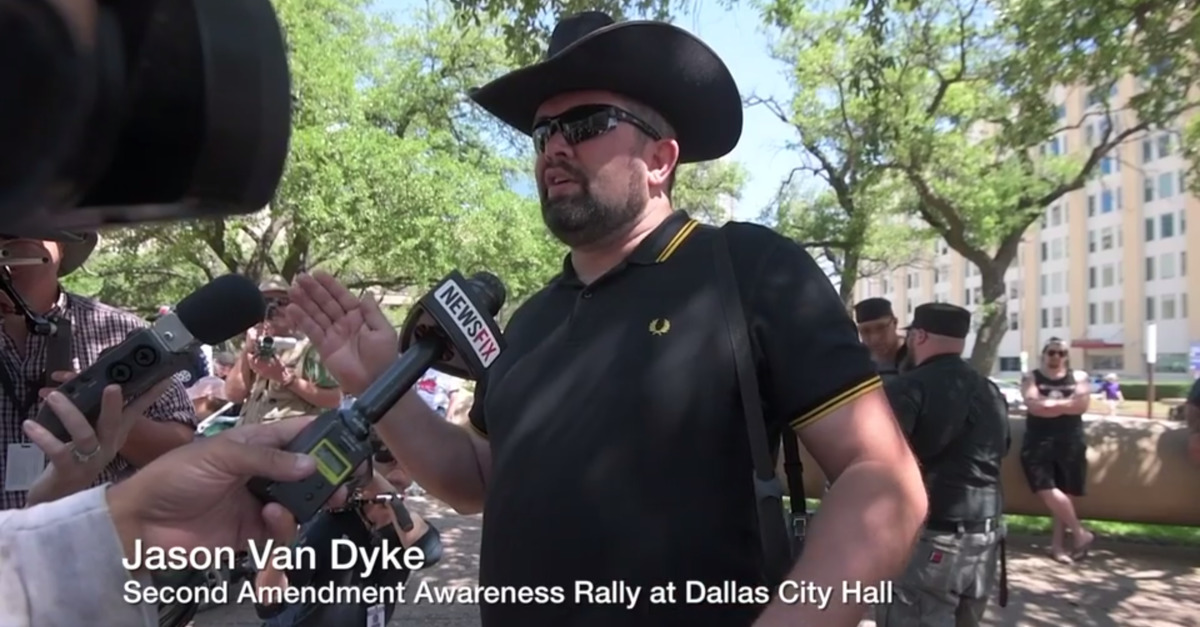 The trial for the former lawyer and leader of the far-right Proud Boys street gang has been put on hold in North Texas after a witness in the case mysteriously disappeared.
According to the Fort Worth Star-Telegram, 38-year-old Jason Lee Van Dyke was scheduled to be put on trial on Tuesday over allegations that he lied to police about stolen guns and camera equipment. He was arrested in September of 2018 and was charged with filing a false police report.
The Star-Telegram reports that the trial was put on hold in order for Van Dyke's defense team to consider a Monday order allowing written statements from the missing witness in question to be used as evidence during the trial, according to First Assistant District Attorney Jamie Beck.
On Monday, the court signed off on the prosecution's motion arguing that Van Dyke gave up his right to confront the missing witness in person–or to object to their use of their written statements–because the defendant allegedly attempted to prevent the witness from testifying in the first place.
During a hearing, Denton County prosecutors reportedly presented evidence suggesting that Van Dyke encouraged the witness not to answer his door and to generally be unavailable when law enforcement came calling.
As for the witness' whereabouts? For now, prosecutors say they don't think anything untoward occurred, but they still don't know where he is.
"We don't believe any foul play took place, we just can't find him," Beck told the outlet. "We can't find him to serve him with a subpoena to let him know he's supposed to testify."
Van Dyke is still under investigation by law enforcement and could face additional charges, Beck said.
The charges against the former Proud Boy and lawyer for the group stem from two dueling police reports filed over the missing guns and camera equipment on September 13, 2018.
Van Dyke initially told police that he saw a burglar inside of his truck but was too late to catch the thief in the act. When he finally got into the truck's cab, Van Dyke told police he discovered that a shotgun and two handguns had gone missing along with camera equipment that belonged to his then-roommate–the missing witness.
The witness, identified only as Isaac by law enforcement, had a different story altogether.
Isaac told police Van Dyke had earlier said that one of his pistols was missing. The two then set out to look for said pistol before noticing that another gun and the camera equipment had been stolen as well, according to a police affidavit.
Police later questioned Van Dyke again. He said the weapons had turned up later on. Isaac, however, told police that those guns never actually reappeared and Van Dyke was charged with filing a false statement less than a week after phoning in the still-suspicious burglary.
Van Dyke is currently licensed and eligible to practice law in the Lone Star State, but is currently on probation over an unrelated lawsuit from 2017.
The Proud Boys gang is a transnational group that has regularly engaged in acts of political violence across the country. Several members of the Proud Boys also took part in the deadly "Unite the Right" rallies in Charlottesville, Virginia–which ultimately claimed the life of 32-year-old socialist Heather Heyer.
Van Dyke took control of the Proud Boys-which describes itself as a "pro-Western fraternal organization"–after founder Gavin McInnes stepped down in late November. Van Dyke left the group less than a week later.
Law&Crime reached out to the Denton County District Attorney's Office for additional comment on this story, but no response was forthcoming at the time of publication. An inquiry to Van Dyke's lawyer was also not answered but this space will be updated if and when such replies are received.
[image via screengrab/Fort Worth Star-Telegram]
Have a tip we should know? [email protected]