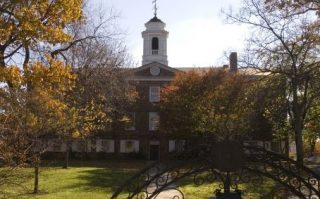 A former student at Rutgers University filed a lawsuit last week against the school and two other former students who allegedly had non-consensual sex with her while she was drunk at a party. The woman, identified in court documents as "K.L.," claims that the University is liable for what happened because of  "the sexually hostile environment at Rutgers University that was created by [the school]."
The two men named in the lawsuit were Rutgers football players at the time. K.L. started school in the fall of 2015 in the school's Honors Program. According to court documents, the summer before that, one of the men who was already on the Rutgers football team on a scholarship, had to go home to Florida to face a juvenile criminal case. The student, according to the lawsuit, had been involved in underage drinking and "a sexual offense of flagrantly lewd and inappropriate conduct which would violate the laws of New Jersey."
The lawsuit claims that Rutgers was aware of the player's past, and was "deliberately indifferent" to it.
In Novermber 2015, that same player allegedly provided alcohol to the second player, who was K.L.'s boyfriend at the time, at a party. K.L. claims that at first she said no to an alcoholic beverage, but after blacking out and waking up the next morning, she was told that she had eight shots of tequila and had sex with both men while she was intoxicated. The complaint says that her then-boyfriend later told her that the other player took advantage of both of them by getting them drunk.
K.L.'s lawsuit alleges that once reports of the incident came to light, the school's athletic department tried to keep it under wraps, and told witnesses and K.L.'s boyfriend to "change their stories." Because of this alleged attempt of a cover-up, and the alleged indifference to one of the player's criminal history, she is looking to hold Rutgers liable, in addition to the two men.
LawNewz.com reached out to Rutgers for comment but they have yet to respond. K.L.'s attorney did not provide specific comments about the matter, but did tell LawNewz that a criminal case against the men is "under investigation with the Middlesex County Prosecutor's office."
K.L. and both men have since left Rutgers to attend other schools.
Have a tip we should know? [email protected]