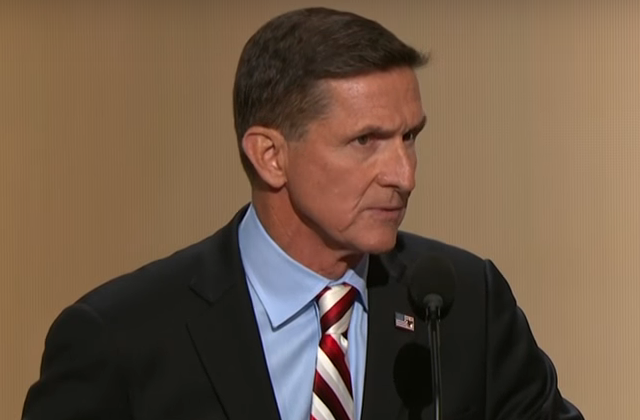 Lawyers for former National Security Adviser Michael Flynn have stopped an information-sharing agreement with Donald Trump's legal team, according to a New York Times report on Thursday. The sources were described as "four people involved in the case," who could not comment on the record because they were unauthorized to discuss this in public. If this development is true, this could mean that Flynn is cooperating, or wants to cooperate with Special Counsel Robert Mueller.
This doesn't mean Flynn is wholeheartedly working with prosecutors.
From the article:
Some lawyers withdraw from information-sharing arrangements as soon as they begin negotiating with prosecutors. And such negotiations sometimes fall apart.

Still, the notification led Mr. Trump's lawyers to believe that Mr. Flynn — who, along with his son, is seen as having significant criminal exposure — has, at the least, begun discussions with Mr. Mueller about cooperating.
Mueller is investigating Russian interference in the 2016 presidential election. In a report declassified in January, U.S. intelligence officials said that the Kremlin directed hacking efforts to help Trump win. The investigation is looking into whether POTUS' campaign colluded in Moscow's scheme.
Flynn has denied all wrongdoing, but he remains in a precarious position, based on what is publicly known. He lost his position as National Security Adviser in February (after just days on the job) after misleading Vice President Michael Pence and other senior administration officials about his conversations with Russia's then-U.S. ambassador Sergey I. Kislyak about American sanctions against Moscow.
Mueller reportedly has leverage over Flynn: his son Michael Flynn Jr. The younger Flynn, who did lobbying work at his father's side, is also a subject of the special counsel's investigation, according to an NBC report from early November. Sources suggested the elder Flynn could cooperate with investigators to save his son from charges.
Even so, any alleged wrongdoing may have nothing to do with collusion. Flynn Sr. did lobbying work during the U.S. presidential campaign, but it was only this year that he registered his lobbying firm as a foreign agent for a Dutch firm connected to the Turkish government. There also could be the possibility that he broke the law for talks he had during the presidential transition, in which he and the Russian ambassador discussed sanctions against Moscow. Flynn has also snubbed congressional subpoenas in their own Russia probes. This may have left him open to other legal consequences.
[Screengrab via Republican National Convention]
Have a tip we should know? [email protected]