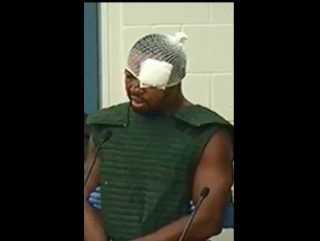 Florida Governor Rick Scott has reassigned the prosecutor originally assigned to the case of accused cop killer Markeith Loyd after she announced her decision on Thursday that she would not seek the death penalty in the case.  In addition to charges related to the murder of a police officer, Loyd is also accused of killing his pregnant girlfriend.
State Attorney Aramis Ayala was reassigned by the governor after announcing that she had decided to not seek the death penalty against Loyd, or any other defendants during her time in office.   According to local news outlets,  Ayala said she made the decision after much "extensive and painstaking thought and consideration" and concluded that the death penalty in Florida had only led to "chaos, uncertainty and turmoil."
The decision led to immediate outrage and backlash by many in the law enforcement community and from Florida Attorney General Pam Bondi.  Orlando Police Chief John Mina was especially upset with the announcement and did not hide his feelings in a Twitter post after Ayala announced her decision.
My statement on the State Attorney decision. https://t.co/7g48TcIocD

— Chief John Mina (@ChiefJohnMina) March 16, 2017
"I have seen the video of Markieth Loyd executing Lt. Debra Clayton while she lay defenseless on the ground. She was given no chance to live. A cop killer – who also killed his pregnant girlfriend should not be given a chance," Mina said in his statement. "The heinous crimes that he committed in our community are the very reason we have the death penalty as an option under the law."
Florida law only allows a governor to suspend an elected official for "malfeasance, misfeasance, neglect of duty, habitual drunkenness, incompetence, or permanent inability to perform official duties," but there is a provision that allows the governor to reassign prosecutors for "good and sufficient" reasons.
In his statement announcing the decision to reassign the case, Gov. Scott said:
"I want to be very clear, Lt. Debra Clayton was executed while she was laying on the ground fighting for her life. She was killed by an evil murderer who did not think twice about senselessly ending her life. I completely disagree with State Attorney Ayala's decision and comments and I am asking her to recuse herself immediately from this case. She has made it abundantly clear that she will not fight for justice for Lt. Debra Clayton and our law enforcement officers who put their lives on the line every day."
Gov. Scott appointed prosecutor Brad King to takeover the case and he issued a statement saying he was "called upon by the Governor to do a job" and that job "as far as the Governor's appointment is to prosecute the case. That is what I intend to do."
However, not everyone seems satisfied with Gov. Scott's decision.  The father of one of Loyd's victims told Fox 35 Orlando that he was concerned the family would not fully receive closure in the case if prosecutor's go for the death penalty.
Ron Daniels, the father of pregnant murder victim Sade Dixon, said, "Life, no chance of parole, we get closure, but now if you give him the death penalty, he comes back. Every time he appeals this family or any family has to relive that case all over again."
[image via screengrab]
Have a tip we should know? [email protected]