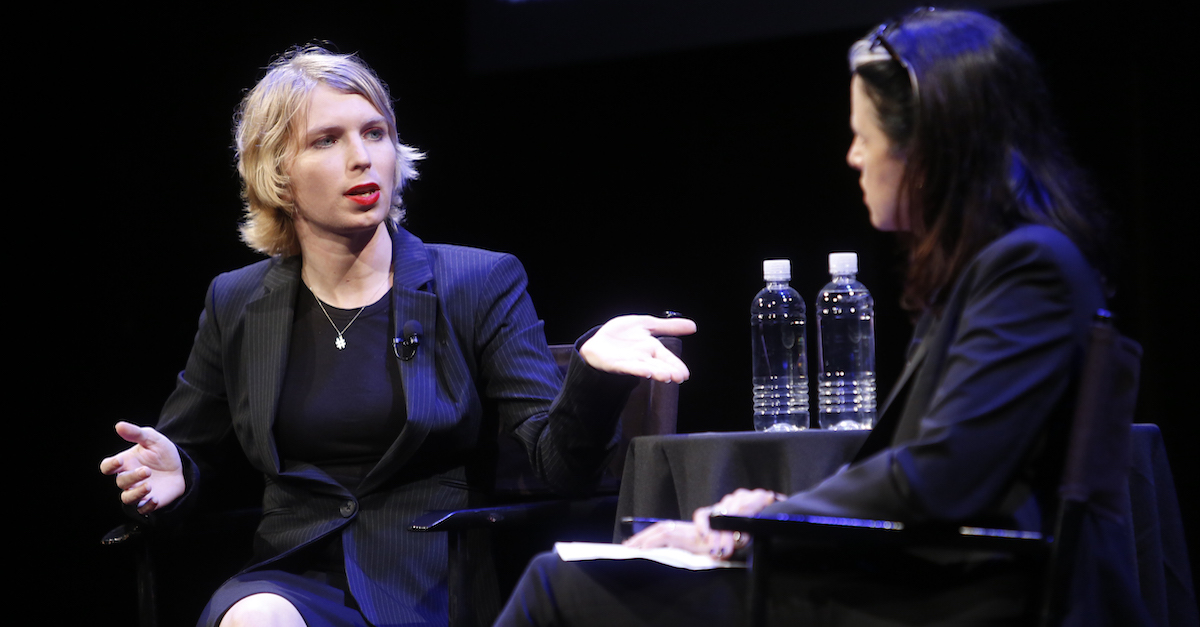 Remember when the U.S. Attorney for the Eastern District of Virginia (EDVA) had to respond to his office mistakenly naming WikiLeaks founder Julian Assange as a target of yet-to-be unsealed criminal charges? That same U.S. Attorney's Office (USAO) has subpoenaed Chelsea Manning, the former U.S. Army intelligence analyst who was infamously convicted of violating the Espionage Act by disclosing thousands of "classified (and unclassified but 'sensitive') documents" to WikiLeaks.
After the government slapped Manning with a subpoena to appear before a grand jury in the EDVA, Manning moved to quash the subpoena. A federal judge denied that attempted quashing on Tuesday.
Nonetheless, Manning said, "We still have grounds to litigate so we're going to be here tomorrow." It remains to be seen what those grounds are or what questions the government needs Manning to answer. Even Manning said she has no idea what the government wants. "We can speculate like anyone else," Manning said, according to CNN.
The WikiLeaks connection and the USAO's embarrassing history with Assange may provide a clue, however.
In November 2018, the USAO for the EDVA was in the unenviable position of having to respond to a filing from the Reporters Committee for Freedom of the Press (RCFP) seeking to know more after federal prosecutors had erroneously exposed Assange as a target of criminal charges. U.S. Attorney for the Eastern District of Virginia G. Zachary Terwilliger responded to the error by saying the government "accepts full responsibility for that mistake," but added that he would not confirm nor deny charges against Assange.
"Even though that error may have triggered speculation [about Assange charges] by the Reporters Committee, the plaintiff's application lacks merit and should be denied in light of established law and precedent," Terwilliger said. "While the government has admitted that the aforementioned court filing was made in error, it has not confirmed or denied whether charges against Julian Assange exist, which is what the plaintiff seeks to learn through its application."
Manning was sentenced to 35 years in prison, but that sentence was commuted by then-President Barack Obama. That was after seven years of imprisonment, which began when Manning was arrested in 2010.
[Image via Thos Robinson/Getty Images for The New Yorker]
Have a tip we should know? [email protected]