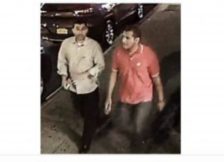 On Wednesday, the FBI said they wanted to speak to two men in connection to the recent bombings in New Jersey and New York City. They were seen on surveillance footage, walking in Manhattan, blocks away from where an explosive went off. They were also shown picking up a duffel bag or suitcase containing a separate pressure cooker explosive (allegedly left by suspect Ahmad Rahami), removed the bomb from the bag, and took the bag. Now those guys have been cleared by the feds.
Law enforcement sources told CBS reports the the feds identified these these men as EgyptAir crew members. Investigators located them, and reached them during an overseas stopover. The sources say the two picked up a duffle bag containing the undetonated pressure cooker, but the men apparently didn't know what it was. The men remain unidentified.
Rahami was arrested in connection to separate September 17 bombings in New York City and New Jersey.
[image via surveillance footage]
–
Follow Alberto Luperon on Twitter (@Alberto Luperon)
Have a tip we should know? [email protected]