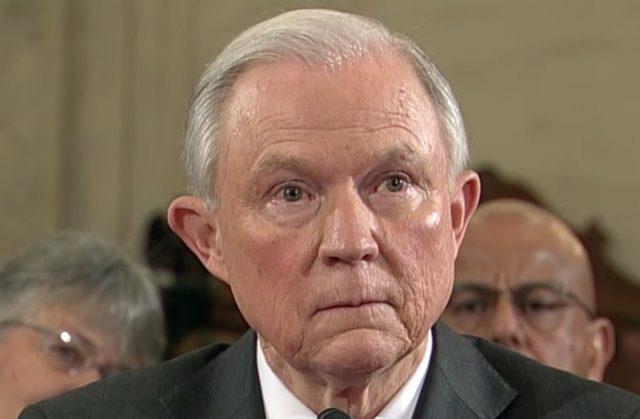 Attorney General Jeff Sessions announced Saturday that the feds are investigating the fatal car crash that left one woman dead and others injured amid a white nationalist rally. Eyes are on the Trump administration, which has been accused of condoning the bigoted sentiment allegedly behind this incident.
"The violence and deaths in Charlottesville strike at the heart of American law and justice," Sessions said in a statement obtained by LawNewz.com. "When such actions arise from racial bigotry and hatred, they betray our core values and cannot be tolerated. I have talked with FBI Director Chris Wray, FBI agents on the scene, and law enforcement officials for the state of Virginia. The FBI has been supporting state and local authorities throughout the day. U.S. Attorney Rick Mountcastle has commenced a federal investigation and will have the full support of the Department of Justice. Justice will prevail."
In a separate statement, the Federal Bureau of Investigation's Richmond Office said that this is a civil rights probe run by them, the Civil Rights Division, and the U.S. Attorney's Office for the Western District of Virginia.
Authorities say one woman, identified as 32-year-old Heather Heyer, was killed Saturday after a car rammed into a crowd who were protesting a white nationalist rally. Dozens were injured. Witness Matt Korbon, a 22-year-old year University of Virginia student, told The Associated Press that a silver Dodge Challenger barreled through "a sea of people" and smashed into another car. Ohio man James Alex Fields Jr., 20, was arrested as the driver, and charged with second-degree murder and other counts.
This comes amid a white nationalist rally in Charlottesville, Virginia on Saturday. Called "Unite the Right," it could be the biggest white nationalist assembly in a decade, according to the Anti-Defamation League. It involved "white identitarian" groups like the Identity Evropa [sic], the Nationalist Socialist Movement, Vanguard America, and the Traditionalist Workers Party.
Fields' mother Samantha Bloom, told The Associated Press on Saturday that she knew her son was attending a rally, but she believed it was for President Donald Trump, not white supremacy.
"I thought it had something to do with Trump," she said. "Trump's not a white supremacist."
She said she didn't know much about her son's political views, and claimed he had a black friend.
As for Trump, he's fielded racism allegations for a long time, even before he started running for office. Critics were quick to lay the blame on POTUS' feet, arguing that he has facilitated racist sentiment behind Saturday's rally.
"We condemn in the strongest possible terms this egregious display of hatred, bigotry and violence on many sides, on many sides," he said, not mentioning white supremacists outright.
A follow-up statement by a White House spokesperson tried to clarify the president's remarks.
NEW: WH on Pres. Trump's Charlottesville statements: "Of course that includes white supremacists, KKK, neo-Nazi and all extremist groups" pic.twitter.com/4JjIi6qZ5x

— NBC News (@NBCNews) August 13, 2017
Sessions in particular has faced racism allegations, which he has emphatically denied.
Two troopers, Lieutenant H. Jay Cullen, 48, and Berke M.M. Bates, 40, were killed by a helicopter crash that happened in the area. Police said the aircraft deployed because of the violence surrounding the white nationalist rally. Local authorities said Saturday that there was no indication of foul play.
Update – August 13, 11:39 a.m. EST: We added the follow-up statement by a White House spokesperson.
[Screengrab via CBS]
Have a tip we should know? [email protected]