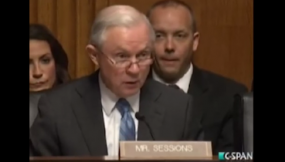 Days before his confirmation hearings are scheduled to begin, Jeff Sessions, Trump's pick for Attorney General, asserted that he prosecuted a Ku Klux Klan related lynching nearly 30-years ago in a questionnaire that he submitted to the Senate Judiciary Committee.
However, Thomas Figures, an assistant U.S. attorney who worked under Sessions as U.S. attorney in Alabama at the time of the lynching case, said otherwise.  The case surrounded Michael Donald, a black man who was kidnapped, beaten and strangled to death with a rope by alleged KKK members. Figures was a prominent witness during Sessions' confirmation hearings as nominee for a federal judgeship in 1986 under President Ronald Reagan. During the hearing, Figures claimed that Sessions sought to undermine the investigation, subtly attempting to sway Figures to drop the case. Figures' claims that Sessions made various racist comments and that he sought to derail the Donald case have resurfaced recently due to Sessions' AG nomination.
In an opinion piece published by the Washington Post, three former Justice Department civil rights lawyers, J. Gerald Hebert, Joseph D. Rich and William Yeomans, flat out deny the notion that Sessions is any sort of civil rights crusader.
Sessions has consistently come under fire accusations of racism since his nomination in November.  He has since received intense scrutiny due to his statements such as describing organizations like the ACLU and the NAACP as "un-American" because they were "trying to force civil rights down the throats of people."  An attorney, who is black, has also said that Sessions once called him "boy."  That same lawyer further recalled how Sessions once quipped that he didn't have a problem with the KKK "until I found out they smoked pot."
Sessions has consistently denied the accusations of racism. His most recent assertion that he prosecuted the past KKK lynching is most likely a tactic to sway those who believe him to be a racist, and that he would therefore be unable to act as an unbiased head of the Justice Department.
It remains to be seen if this will help or hurt Session during his confirmation hearings.
[image via screengrab]
Have a tip we should know? [email protected]