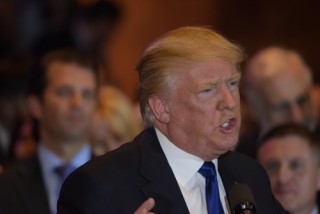 Donald Trump has undoubtedly made the class action lawsuit against Trump University a campaign issue. For the last several days, he has been on a tear against federal Judge Gonzolo Curiel who is overseeing one of the class action lawsuits against Trump University. In the lawsuit, former students claim that the University and Trump violated federal law by luring them to sign up with false promises and then defrauded them once they handed over their checks.
LawNewz.com discovered that when it comes to politics, Robbins Geller Rudman & Dowd, the law firm behind the class action lawsuit, is not exactly neutral either. Our analysis, using data first compiled by The Washington Post, found that Robbins Geller Rudman & Dowd paid the Clintons a total of $675,000 in fees for speeches since 2009. Hillary Clinton gave a $225,000 speech at the law firm as recently as September 4, 2014.  Bill Clinton also gave a speech for the same fee back in 2013, and another one in 2009 before the firm had been renamed (they used to be called Coughlin Stoia Geller Rudman & Robbins LLP). In fact, of the five law firms that paid for the Clintons to speak over the last few years, Robbins Geller Rudman & Dowd paid out the most money.
Court records indicate 9 attorneys from Robbins Geller are listed as representing Art Cohen and the other former Trump University students in the class action lawsuit (there are three attorneys from another law firm as well). A review of the case's docket reveals that the Robbins Geller attorneys have aggressively pursued the lawsuit, pushed for Trump to testify and for the trial to begin before the November 2016 election. However, it is also worth noting that the lawsuit was filed in 2013, well before Trump declared he was running for President.
"These are real people who spent a significant amount of money. This has impacted their lives. That does not turn on the election or the election outcome," Robbins Geller lawyer Jason Forge said about the case. A judge ultimately decided that the trial should begin sometime after the election.
In addition, in the midst of the litigation, one of the Robbins Geller attorneys, Patrick Coughlin, who is also 'of counsel' at the law firm, maxed out his donations to Hillary Clinton's campaign. Records maintained by the Federal Election Commission indicate that Coughlin has been a longtime financial supporter of both the Democratic National Committee and Hillary Clinton. In February, he donated $5,400 to her campaign.
"No rule prevents a lawyer from donating to a candidate or paying a prospective candidate for speeches and also representing a client against her opponent. The story is interesting because everything about Trump appears now to be interesting, but there is no problem under the lawyer ethics rules," NYU law professor Stephen Gillers told LawNewz.com. Gillers is an expert on legal ethics.
Robbins Geller Rudman & Dowd is a high profile law firm, based out of San Diego, with considerable resources.  The lawsuit against Trump was filed in the Southern District of California (San Diego) back in 2013. The firm is frequently involved in multi-million dollar complex litigation. In 2008,  they obtained a $7.2 billion settlement for Enron shareholders as part of a massive federal class action lawsuit.
LawNewz.com reached out by phone and email to attorneys at Robbins Geller for comment, but have not heard back.
Editor's Note: An earlier version of this article misspelled "Geller" in Robbins Geller Rudman & Dowd. 
Have a tip we should know? [email protected]
Rachel Stockman - President / On Air Host