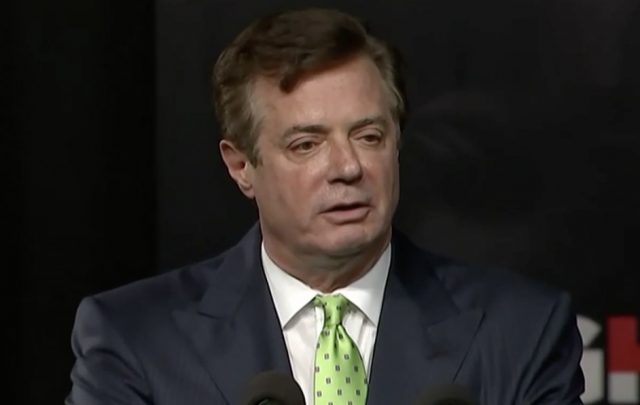 The days of former Trump campaign manager Paul Manafort practicing law in Connecticut may be coming to an end, if one ethics watchdog has his way.  J. Whitfield Larrabee, an attorney in Brookline, Massachusetts, filed an ethics complaint with the Connecticut Bar on Monday that alleges over the course of the past decade, "Manafort engaged in unethical and illegal conduct that make him unfit to practice law."
The complaint filed by the ethics attorney claims Manafort has done damage to the process of government "by illegally concealing his efforts to advance the interests of foreign and autocratic governments" and "has engaged in unethical and illegal acts by accepting millions of dollars in payments that he knew or should have known were stolen or illegally obtained from the people of Ukraine or others." This statement likely refers to new reports that Ukrainian investigators found Manafort's name in a ledger that shows he was provided at least $1.2 million in payments that were actually to his consulting firm in the United States. According to the article, this is the first evidence that Manfort's firm received at least some money from the pro-Russian political part in the Ukraine in 2007 and 2009.   
In addition to his alleged misdeeds overseas with Ukraine and Russian oligarchs, Manafort is accused of maintaining "close association with individual criminals" and of "participation in schemes to use shell corporations." Larrabee further writes, all of this with "the other criminal acts described herein provide reasonable grounds to believe Manafort has engaged in additional fraudulent and criminal activities including, but not limited to, tax evasion, wire fraud, money laundering and racketeering." 
Larrabee concludes his complaint with four specific violations of Connecticut Rules of Professional Conduct allegedly committed by Manafort for which he should lose his law license:  (1) commission of criminal acts; (2) dishonesty, fraud, deceit or misrepresentation; (3) stating and implying ability to improperly influence government agencies and officials and; (4) other ethical violations.
In the past, Manafort has vehemently denied any wrongdoing in his business dealings, telling The New York Times, "The suggestion that I accepted cash payments is unfounded, silly and nonsensical," in response to a question the he had received off -the-books cash payment.
He was also recently asked by CNN about a potential FBI investigation possibly involving millions of dollars in payments working for the former Ukraine regime, Manafort reportedly replied to the questions, "Comment on what. There is nothing."
However, according to a recent Associated Press report, Manafort will register with the Justice Department retroactively based on his work with the former Ukrainian government.
"By registering retroactively, Manafort will be acknowledging that he failed to properly disclose his work to the Justice Department as required by federal law, the report states.
In a brief interview with LawNewz, Larrabee stated he hopes this complaint helps shed more light on Manafort's alleged misdeeds and holds his accountable by at least causing him to lose his law license.
image via [screengrab]
Have a tip we should know? [email protected]