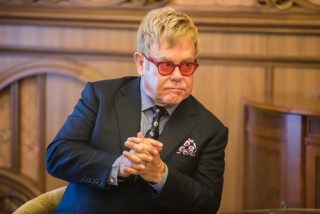 A decorated police captain in the Los Angeles Police Department (LAPD) has sued Grammy-award winning singer Elton John for sexual assault. He claims the pianist groped him while he was working in an off-duty capacity on the singer's security detail.
Capt. Jeffrey Wenninger filed the lawsuit on Monday alleging that the openly gay singer groped him while riding to the airport in March 2014 and made sexually suggestive comments to him a few weeks later. Orin Snyder, an attorney for Elton John's music management company Rocket Entertainment Group, has denied the allegations.
In a released statement, Snyder said, "This baseless lawsuit is brought by a disgruntled former security officer seeking to extract an undeserved payment. These claims are patently untrue and contradicted by numerous previous statements made by this plaintiff."
Wenninger, a past recipient of the LAPD's Medal of Valor, is also suing the private company that staffed him on John's detail. Oddly, Menninger's lawsuit against the company alleges he was improperly removed from working with the "Rocket Man" singer in September 2014, months after the alleged incident occurred. Marla A. Brown, Wenninger's attorney, refused to address why the LAPD officer would be seeking work after the alleged incidents with John occurred.
However, the lawsuit does accuse John of continuous and repetitive abuse over a span of 12 years. "The unwelcome touching of plaintiff occurred on many other occasions over the span of several years since plaintiff began his employment in 2002, escalating in frequency and intensity after 2010," the lawsuit states. "At no time did plaintiff consent to defendant Elton John touching him in this offensive manner, or in any other manner."
[h/t CBSLosAngeles]
Have a tip we should know? [email protected]