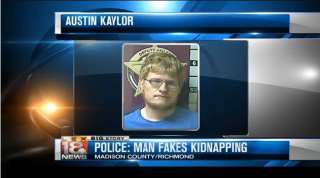 A 20-year-old man was arrested in Richmond, Ky. on Monday after faking his own kidnapping, according to police. That's just the beginning.
Austin Kaylor allegedly undertook increasingly unbelievable steps to score some drug money.  He told his family early Monday morning that he had been kidnapped and that if they didn't pay up with a paltry $150 he would be killed, according to an arrest citation. As a result, the police conducted a covert operation. When the authorities located Kaylor, he attempted to run away but was easily caught by police. Kaylor admitted to authorities that he had invented the story to "get money from his family so he could purchase narcotics."
In an interview with Lex18 News, Kaylor's neighbor, Larry Barrett, said it was almost hard to believe, "a joke's a joke but something like that ain't no joke. I just wouldn't look at it to be something you can sit and laugh about. Something like that can get people hurt and can take a lot of your freedom away."
Kaylor has already paid bond and been released from a local detention center. However, he's currently facing four charges: falsely reporting an incident, disorderly conduct, theft by deception, and fleeing or evading police.
[h/t LEX18]
Have a tip we should know? [email protected]