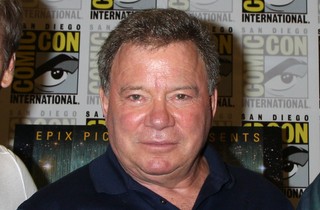 A man who claims William Shatner is his dad sued the actor Friday for $170 million and a paternity test. Peter Sloan, who filed at a Hillsborough County circuit court in Florida, wants money for libel, defamation, tortious interference, and slander, The Tampa Tribune reports. He is representing himself. No attorney.
"I have endured quite a bit over the years and always stayed above the fray in terms of going after him for anything," the 59-year-old told the Tribune. "There has been a pattern of behavior that makes me look like I am lying, and I won't stand for that anymore. I am tired of being called a fraud by his people and him."
For example, a Shatner spokesperson publicly denied the paternity claim in May, the suit states. Also, the 85-year-old actor's social media director allegedly defamed Sloan on social media that same month.
Sloan claims the Star Trek actor fathered him in 1956. His mother, the late actress Kathy Burt, got pregnant in a one-night-stand with Shatner, but didn't tell him. She instead put her son up for adoption. Burt told Sloan the truth about his birth father when they reconnected in the early 1980s, he asserts. Apparently, Shatner was only told about his purported son in 1962.
He also insists he met the actor in 1984 at movie studio. Shatner reportedly admitted his paternity back then, but Sloan has no evidence this meeting ever happened. In any case, the "son" doesn't expect any kind of real relationship with "dad."
"I think that book has been closed for some time," he told the Tribune.
[h/t The Tampa Tribune]
[image via Shutterstock]
–
Follow Alberto Luperon on Twitter (@Alberto Luperon)
Have a tip we should know? [email protected]