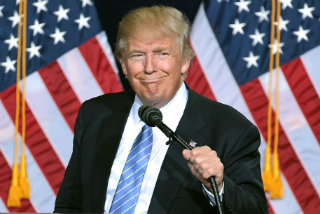 On Wednesday, in the immediate aftermath of Donald Trump's presidential victory, LawNewz examined the specifics of the civil racketeering case over his now defunct "Trump University" real estate instruction course, which is set to go to trial at the end of the month. That case is just one of what was estimated by USA Today as being about 75 ongoing lawsuits against Trump when the newspaper analyzed his litigation history back in June. The number has surely changed, and maybe even grown since then, as his nomination to be the Republican Party's official candidate has sparked more lawsuits against him. Some legitimate, others not.
Under the U.S. Supreme Court Ruling Clinton v. Jones, the President of the United States can be sued for actions that predate taking office or are unrelated to his or her official duties. However, it is likely many of the cases may be delayed when he assumes his official duties as president.
As of this writing, though, the Trump University case about to go to trial is far from the only outstanding civil case against the president elect. It's not even the only Trump University lawsuit, as the New York State Attorney General's office still has its own lawsuit pending in New York County Supreme Court in the form of Schneiderman v. The Trump Entrepreneur Initiative LLC.
That lawsuit, filed in 2013, consists of allegations that are not substantively different form what is in the other complaints against the company, though there are a few interesting notes. The Scheiderman complaint alleges that Trump University had no real "corporate existence" of its own, "could not even issue its own checks," and did to ever hold a board meeting. The complaint also includes more extensive details of Trump University's various advertising campaigns than the complaints in the cases about to go to trial.
A lawsuit filed October 20th that purports to be "THE SEVENTH RELATED CASE IN THE SERIES ARISING OUT OF THE ILLUMINATI DICTATORSHIP" is probably not going anywhere. Neither is one filed November 1st seeking to have the election postponed because both candidates "will not be reliable to fulfill the role of Chief of State," a handwritten lawsuit alleging false imprisonment, one referencing some sort of mysterious satellite communications with the campaign, or another, less comprehensible handwritten complaint from a New Mexico resident.
Having said that, those cases are not exactly the majority.
There are the lawsuits against his businesses with no direct relationship to Trump personally, like several injury complaints from tenants in Trump's New York apartment buildings, or the claim that Trump Palace Condominiums is an unsafe working environment. It doesn't stop there: Trump's golf courses have a few cases pending, as well.
There's a complaint against the Jupiter, Florida location of Trump National Golf Club from a children's class instructor who alleges she was fired for reporting sexual harassment. That's the same club in the midst of a class action lawsuit for not refunding exiled members' dues, where both President Elect Trump himself and his son Eric, who manages the business, testified in depositions. Another Trump National club is battling an age discrimination lawsuit.
Various cases against the Trump campaign have also popped up: Just a few weeks ago, LawNewz reported on a new one from Black Lives Matter activists who alleged that they were beaten up by multiple Trump supporters at a campaign event in Alabama. Others include a class action alleging that the campaign illegally sent unsolicited "Make America Great Again" themed text messages, and a case in New York from Mexican-American protesters who claim Trump security staff attacked them outside Trump Tower.
One of the more notable lawsuits is against not just the campaign, but also Trump personally and former campaign manager Corey Lewandowski.  In that case, Republican consultant Cheryl Jacobus is suing them for defamation, alleging that these (below) Trump tweets are false and defamatory, having been "made with actual malice and with intent to injure plaintiff in her reputation and profession."
…and this Lewandowski statement on the January 27th edition of MSNBC's "Morning Joe" about a Jacobus appearance with Megyn Kelly on Fox News (skip to 6:34)…
She had Cheri Jacobus on yesterday, who, uh, you know, wanted to talk about Mr.Trump. This is the same person, I'll just tell ya, who came to the office on multiple occasions trying to get a job from the Trump Campaign, and when she wasn't hired clearly she went and was upset by that.
Jacobus's complaint further alleges that she was recruited by the campaign, only to decline the job after witnessing "rude" behavior from Lewandowski. In a motion to dismiss the case, Trump's side claims "that the alleged defamatory statements constitute nothing more than subjective and hyperbolic opinions about plaintiff's state of mind—which, as a matter of law, cannot provide the basis for a defamation claim." In other words, the defense is that it was just Trump and Lewandowski's interpretation of their interactions with Jacobus.
The most potentially explosive case against Trump, Doe v. Trump, was dropped just a few days prior to Election Day. "Jane Doe," who has also gone by "Katie Johnson" as an alias during the case, accused Trump of raping her when she was 13 years old. Doe/Johnson claimed that convicted pedophile, billionaire, and onetime Trump friend Jeffrey Epstein had facilitated the alleged attacks, offering up a woman claiming to be his former "party planner"/procurer of underage girls as witness. The case drew skepticism in media circles stemming from reports that the allegations had been shopped around to various news outlets before the lawsuit was initially filed (it was actually refiled twice before being withdrawn again over the weekend).
That's just a sampling of the outstanding cases against the President Elect of the United States of America. If history is any indication, there could still be a lot more to come.
[Photo: Gage Skidmore at Wikimedia Commons]
Have a tip we should know? [email protected]