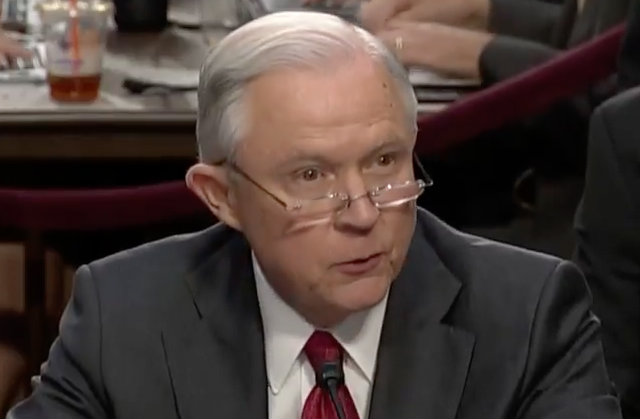 On Wednesday, Department of Justice spokespeople said federal funds granted to California might be subject to "clawback" because of the state's sanctuary state law.
"In early October, the State of California codified into law a requirement that local police release criminal aliens back onto our streets," DOJ spokesman Devin O'Malley told Fox News. "This law undermines public safety and national security, was opposed by law enforcement, and potentially violates federal law. The abandonment of the rule of law evades all common sense, especially given the multiple high-profile incidents that have occurred in California as a result of similar policies. The Justice Department urges California to reconsider these so-called 'sanctuary policies.'"
California Gov. Jerry Brown signed Senate Bill 54 into law in early October. The law, which goes into effect in January, stops local law enforcement officers from asking about an individual's immigration status. It provides other protections to undocumented immigrants. For example, officials can't detain people for federal immigration authorities unless suspects are convicted of delineated crimes. They also cannot share immigration information with those federal authorities.
DOJ officials told Fox this law violates federal statute 8 USC 1373, which prohibits any government authorities from prohibiting or restricting any other entity or official from telling the Immigration and Nationalization Service a person's "citizenship or immigration status, lawful or unlawful."
Officials told Fox that the state might also lose out on grant money in the future.
No legal action has been announced. It's unclear how the DOJ would "clawback" funds already granted to California. Law Newz followed up with the department for comment.
In regard to a similar dispute in Chicago some months back, a legal pundit–Andrew Napolitano, actually–argued the federal government can't withhold grant money unless that money came with specific strings.
"There was no string attached: 'You will help us find illegal immigrants,'" Napolitano said. He argued that Sessions is adding another "string" after the fact.
Erwin Chemerinsky, a constitutional law professor at Berkeley, concurred with Napolitano's assessment when Law Newz reached out for comment about the DOJ's "clawback" threat.
"That is correct," he said in an email. "Only Congress can put strings on federal funds and it has not done so."
A federal judge blocked the DOJ in September from retroactively applying grant conditions to Chicago and other cities with a "sanctuary" policy.
This kind of "clawback" threat isn't new. It's a continuation of a practice Attorney General Jeff Sessions announced in March.
[Screengrab via MSNBC]
Have a tip we should know? [email protected]