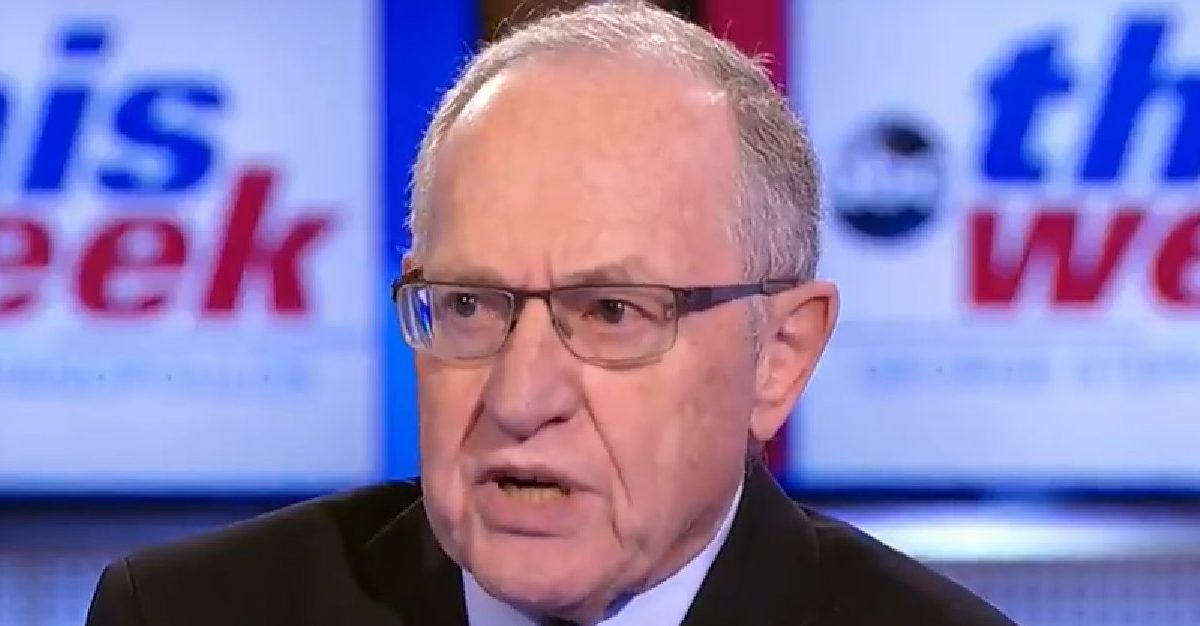 Famed criminal defense attorney Alan Dershowitz confirmed over the weekend that he is still providing legal advice to convicted pedophile Jeffrey Epstein, who is set to go to trial this week against attorney Bradley Edwards. Epstein is currently in the middle of litigation with Edwards, who represented some of Epstein's victims.
"He has called me a couple of times about legal issues, because I'm still technically his lawyer," Dershowitz told Axios' Jonathan Swan.  "But I haven't had any social, or any other kind of contact. … You never stop being a person's lawyer."
Dershowitz has been linked socially to Epstein in the past. The billionaire sex offender is said to have engaged in trafficking of underage girls, with dozens claiming he sexually assaulted or raped them. Dershowitz has been said to have been friends with Epstein before this information went public, and one woman claims that Dershowitz had sex with her when she was a minor. Dershowitz denied this, claiming the allegations were made up. He did admit to getting a massage at Epstein's home once, but not from a young girl.
"He lent us, this was well before any of this thing came out, he lent us his house once," he told Swan. "And I was there, my grandchildren were there, my daughter was there, and we all got massages." The Harvard Law Professor Emeritus said the massage was given by "an old old Russian."
"Believe me, if I had known that anything improper had ever taken place in that house, I never would have allowed my children, my grandchildren, my wife, my daughter-in-law, my son, to have spent time there," he said.
Other high-profile names linked to Epstein include former President Bill Clinton and President Donald Trump. Court documents say that "Trump allegedly banned Epstein from his Mar-a-Lago Club in Palm Beach because Epstein sexually assaulted an underage girl at the club."
Epstein only served 18 months in county jail for his crimes, after reaching a deal with the feds that let him plead guilty to a state charge, with an FBI investigation being dropped. That deal was reportedly arranged by then-U.S. Attorney Alexander Acosta, who is now Trump's Secretary of Labor.
Editor's Note: An earlier version of this article said that Epstein was currently suing Bradley Edwards. In fact, the current litigation is a counterclaim from Edwards against Epstein.
[Image via ABC screengrab]
Have a tip we should know? [email protected]