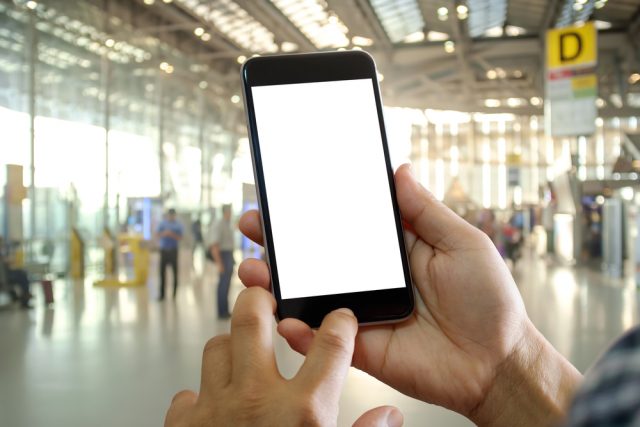 Reports surfaced last week that a NASA engineer had his phone seized by U.S. Customs officers at the airport in Houston and that he was forced to turnover the passcode to unlock the phone before he was released by the officers.  Now, a top member of the Senate Select Committee on Intelligence is demanding answers about the report from the Department of Homeland Security Secretary John Kelly.
Democratic Senator Ron Wyden of Oregon sent a letter Secretary Kelly on Monday seeking answers in light of the recent report about what NASA engineer and U.S. citizen Sidd Bikkannavar says happened to him as he returned to Houston after a trip to Chile on January 31.  In an interview with CNN, Bikkannavar said he was brought to a room by U.S. Customs agents prior to formally reentering the United States upon his return from a trip to Chile.  Bikkannavar says he is unsure why he was detained and claims officers demanded access to his cell phone before he was allowed to leave the interrogation room.  He gave the officers the passcode and was eventually released.
The report caught the attention of Wyden, a longtime privacy rights advocate in the Senate.  LawNewz reviewed a copy of the letter he sent to Secretary Kelly and it asks for responses to a number of questions related to the Bikkannavar incidents and other reported occurrences that are somewhat similar.
"These reports are deeply troubling, particularly in light of your recent comments suggesting CBP [Customs and Border Protection] might begin demanding social media passwords from visitors to the United States," Wyden wrote in the letter.   "With those passwords, CBP may then be able to log in to accounts and access data that they would otherwise only be able to get from Internet companies with a warrant. Circumventing the normal protections for such private information is simply unacceptable."
Secretary Kelly testified at a House Homeland Security Committee hearing last month that he planned to implement a border crossing policy that required individuals wishing to enter the U.S. to provide information, including passwords, for websites they visit on the internet.
Sen. Wyden seeks to end the so-called "border search exception" doctrine, starting in his letter that he plans to introduce legislation in coming weeks that will require warrants at border crossings.
"I intend to introduce legislation shortly that will guarantee that the Fourth Amendment is respected at the border by requiring law enforcement agencies to obtain a warrant before searching devices, and prohibiting the practice of forcing travelers to reveal their online account passwords," Wyden wrote.
The Fourth Amendment generally protects individuals from warrantless searches of their cell phones, but those protections do not necessarily extend to border security checkpoints.  Federal courts have long recognized a border search exception to the Fourth Amendment that allows warrantless searches at border crossing security checkpoints.  This was recently reaffirmed by the Ninth Circuit Court of Appeals in 2014 when they ruled border agents did not need a warrant or even reasonable suspicion of criminal activity to conduct a basic, non-forensic search of personal electronic devices.
In his letter, Sen. Wyden also seeks clarification from the DHS Secretary as to what authority he can cite that supports forcing travelers to provide passwords to their social media accounts or even their cell phones.
[image via mirtmirt/shutterstock]
Have a tip we should know? [email protected]