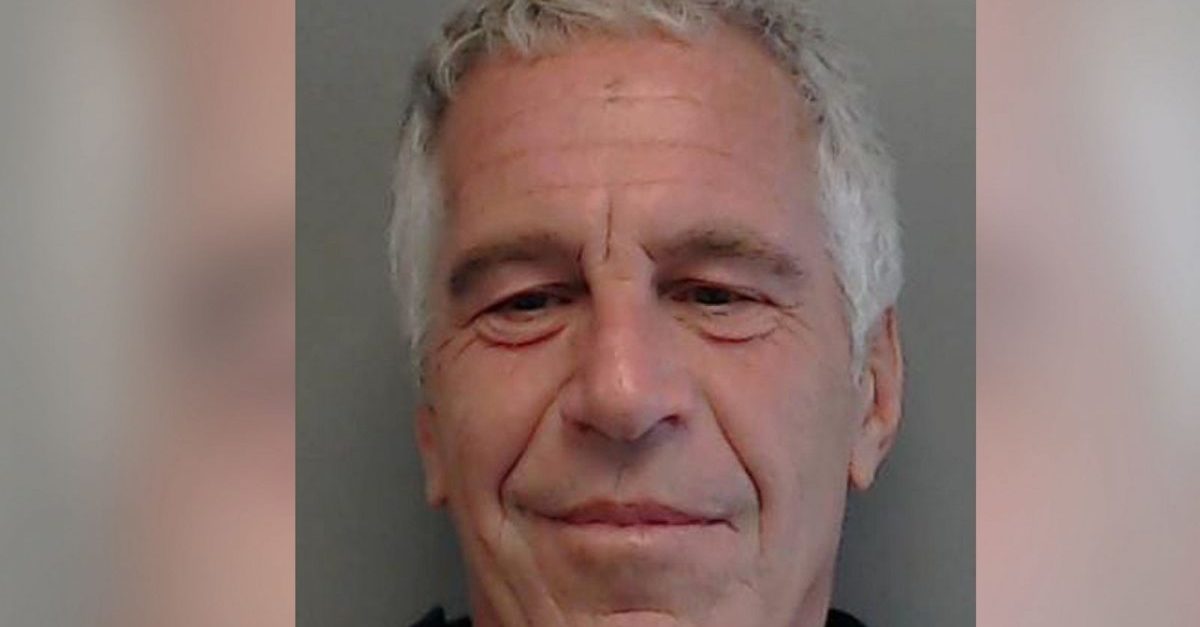 A federal court has ruled that federal prosecutors violated federal law when they signed a sweetheart plea agreement with billionaire pedophile Jeffery Epstein.
U.S. District Judge Kenneth A. Marra issued a 33-page opinion on Thursday which said that evidence showed Epstein ran an international sex operation focused on recruiting and sexually abusing dozens of underage girls.
The ruling is being hailed as a long-awaited vindication of persistent rumors concerning the infamous sex-trafficking operation often referred to as "The Lolita Express"–a reference to a private plane owned by Epstein where many of those underage girls were reportedly forced to have sex with powerful men from the legal, media and political elite.
Judge Marra's opinion is forthright about the operation long shrouded in official secrecy:
From between about 1999 and 2007, Jeffrey Epstein sexually abused more than 30 minor girls, including Petitioners Jane Doe 1 and Jane Doe 2, at his mansion in Palm Beach, Florida, and elsewhere in the United States and overseas. Epstein and his co-conspirators knowingly traveled in interstate and international commerce to sexually abuse Jane Doe 1, Jane Doe 2 and others, they committed violations of not only Florida law, but also federal law.
Not merely accusations this time around–Judge Marra recites the above and more as the undisputed facts of the case.
"In addition to his own sexual abuse of the victims, Epstein directed other persons to abuse the girls sexually," the opinion continues. "Epstein used paid employees to find and bring minor girls to him. Epstein worked in concert with others to obtain minors not only for his own sexual gratification, but also for the sexual gratification of others."
In 2007, federal prosecutors, under the leadership of U.S. Secretary of Labor Alex Acosta, who was then the U.S. Attorney for the Southern District of Florida, quietly entered into a secretive non-prosecution agreement with the billionaire which ensured that Epstein and his co-conspirators would not be prosecuted federally in exchange for Epstein's guilty plea to much less serious state prostitution charges.
Epstein's connections presumably got him a slap on the wrist and he served 13 months in a county jail and home detention for solicitation and procurement of minors for prostitution after he admitted to paying for nude massages that occasionally turned sexual.
On top of that, Acosta's bargain basement deal made sure that Epstein's co-conspirators were all shielded from prosecution under the extraordinary and unprecedented agreement and the FBI's ongoing probe closed up shop.
Adding insult to injury, Acosta also agreed to put the agreement under legal lock-and-key.
Two passages from the opinion detail the extraordinary nature of this secrecy arrangement:
On October 10, 2007, [Epstein defense attorney Jay] Lefkowitz] sent a letter to U.S. Attorney Alex Acosta stating, in. pertinent part: "Neither federal agents nor anyone from your Office should contact the identified individuals to inform them of the resolution of the case, including appointment of the attorney representative and the settlement process. Not only would that violate the confidentiality of the agreement, but Mr. Epstein also will have no control over what is communicated to the identified individuals at this most critical stage. We believe it is essential that we participate in crafting mutually acceptable communication to the identified individuals." The letter further proposed that the attorney representative for the victims be instructed that "[t]he details regarding the United States's investigation of this matter and its resolution with Mr. Epstein is confidential. You may not make public statements regarding this matter."

U.S. Attorney Acosta then met with Lefkowitz for breakfast and Lefkowitz. followed up with a letter stating, "I also want to thank you for the commitment you made to me during our October12 meeting in which you . . . assured me that your Office would not . . . contact any of the identified individuals, potential witnesses, or potential civil claimants and their respective counsel in this matter."
This meant that none of Epstein's victims–mostly between the ages of 13 and 16 at the time they were sex-trafficked–had any idea about the agreement and therefore had no way of appearing at Epstein's sentencing in a bid to force a court to reject the deal.
It was this official veil of secrecy provided by Acosta which Judge Marra rubbished as unlawful in his Thursday ruling.
"Particularly problematic was the Government's decision to conceal the existence of the [agreement] and mislead the victims to believe that federal prosecution was still a possibility," Marra noted. "When the Government gives information to victims, it cannot be misleading. While the Government spent untold hours negotiating the terms and implications of the [agreement] with Epstein's attorneys, scant information was shared with victims."
Two victims later learned about the shadowy plea agreement and sued–seeking to overturn the plea agreement and alleging that Acosta and his team violated the Crime Victims' Rights Act.
As Law&Crime previously reported, attorneys representing those and other Epstein victims had previously predicted the Acosta-Epstein handshake would be subject to judicial scrutiny and possibly revoked.
"There is no precedent for a non-prosecution agreement like this," attorney Jack Scarola noted at a press conference in December 2018. "I am completely unaware of any non-prosecution agreement extending immunity to unnamed co-conspirators for unidentified crimes. I am entirely unaware of secrecy having been bargained for in violation of the Crime Victims Rights Act."
This latest Epstein development comes just months after the Miami Herald's groundbreaking investigative journalism series "Perversion of Justice" broke the scandal wide open by unearthing a series of courthouse documents that outlined the extent of the agreement between Acosta's office and Epstein.
In that series, investigative reporter Julie Brown discovered that the billionaire was allowed to leave the jail and work from for much of the time under the auspices of "work release" during his unusually lenient sentence. Public outrage was again re-kindled against Epstein and his enablers.
Earlier this month, the U.S. Department of Justice announced that Acosta's role in the Epstein affair would be revisited.
[Image via Florida Department of Law Enforcement]
Editor's note: this article has been amended post-publication to include additional details from the court order and for clarity.
Have a tip we should know? [email protected]