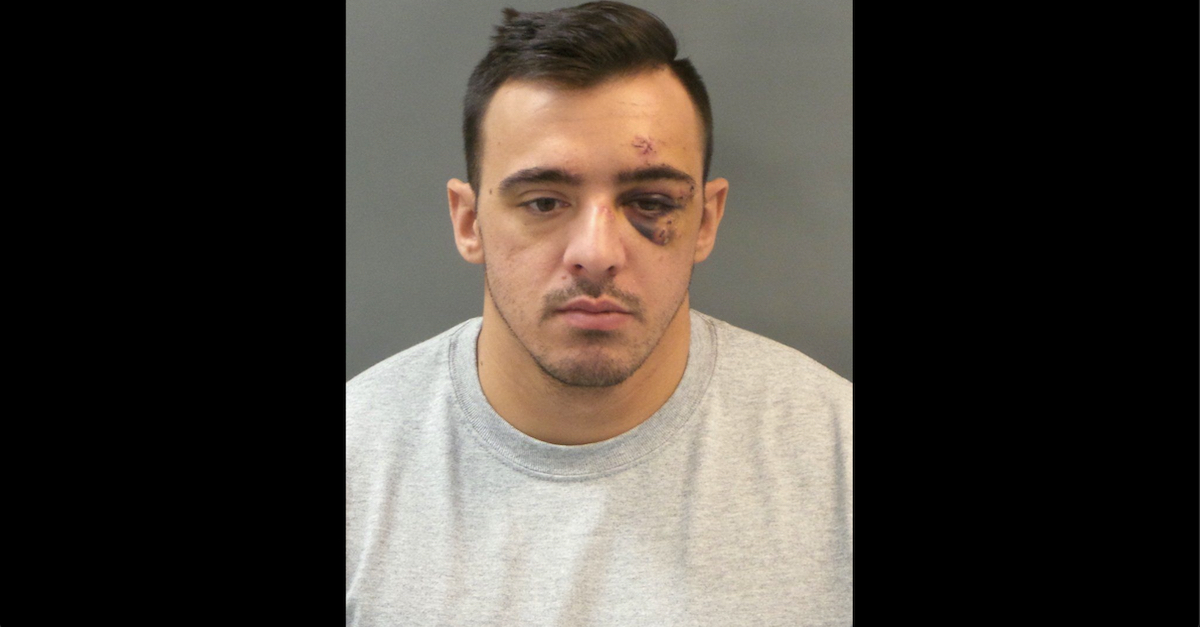 The St. Louis police officer charged with involuntary manslaughter in the alleged "Russian roulette" shooting death of 24-year-old fellow Officer Katlyn Alix wants a new judge to oversee his case.
According to the St. Louis Post-Dispatch, 29-year-old Nathaniel Hendren, by way of his attorneys, claims that Associate Circuit Judge David Roither exhibited bias during a hearing last week and should be removed from the pending court matter.
Hendren was arrested and charged with one count each of involuntary manslaughter and armed criminal activity over Alix's death late last month. The two cops had allegedly taken turns firing a pistol loaded with a single round until Hendren shot Alix in the chest. Alix was then rushed to a hospital where she was almost immediately pronounced dead.
As Law&Crime previously reported, Judge Roither allowed Hendren to leave jail around noon on Thursday, January 31–after raising Hendren's bond from $50,000 to $100,000. Hendren's legal team was then allowed to post 10 percent of that amount in order to secure pretrial release under GPS monitoring at home.
Before Hendren was released, however, Roither made a few off-the-cuff remarks about the shooting.
The judge said that he was an avid hunter trained in firearm safety and that "you don't point a muzzle at anything you don't intend to shoot."
The judge went on to chidingly and meticulously describe Hendren's un-holstering of the pistol that killed Alix, his act of unloading all of the bullets before chambering a single round and then pointing it at his fellow officer before squeezing the trigger.
"That was an intentional act," Roither noted–arguably a conclusion of law due to the fact that "intentional act" is a specific term of art in the legal lexicon. Such conclusions are typically within a judge's purview but Roither atypically delivered his apparent conclusion well before Hendren's trial had even begun.
Roither also voiced his displeasure that the death of Alix was referred to as an "accident" by Hendren's defense counsel–and said that he disagreed with the defense counsel's categorization of the officer's tragic death as an accident.
The motion for a new judge filed by attorney Talmage Newton IV laid into Roither for his statements.
"There can be no room left for doubt in this case that Judge Roither has explicit bias against the Defendant, that he is biased and prejudiced against the Defendant's potential defenses, and has already pre-determined the outcome of this case," the motion alleges. "Judge Roither, due to his own statements made knowingly in front of the media, cannot sit for motion practice or the preliminary hearing in this case and make fair judgments which are free of bias and prejudice against this defendant."
The seven-page filing continues:
It is a rare case indeed that a Judge has so explicitly and publicly made his personal thoughts known regarding a set of allegations (with no evidence or witnesses being presented) at this early stage of the proceedings. The cause for disqualification of this Judge, in this case, is so clear that Judge Roither's failure to recuse himself would amount to an abuse of discretion.
[Image via St. Louis Police Department]
Have a tip we should know? [email protected]