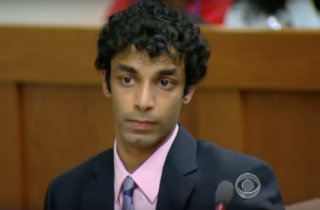 More than four years after Dharun Ravi was convicted of invasion of privacy, hindering apprehension, witness tampering, and four bias intimidation charges, a New Jersey appellate court has ordered a new trial for the former Rutger's student. In 2010, Ravi, having discovered that his dorm roommate, Tyler Clementi was a closeted homosexual, set up a webcam to record a sexual encounter that Clementi had with another man. Not long after Ravi streamed the encounter to his Twitter followers, Clementi committed suicide by jumping off the George Washington Bridge. The case sparked a national conversation about bullying.
Ravi has already served his sentence of 30 days in jail, three years on probation and 300 hours of community service. As a result, this is more about clearing his name/record and the principle of the matter.
The appellate court ruled that Ravi should never have been charged with bias crimes in the first place, and as a result, the bias evidence "permeated" the entire trial.
"The State used evidence revealing the victim's reserved demeanor and expressions of shame and humiliation as a counterweight to defendant's cavalier indifference and unabashed insensitivity to his roommate's right to privacy and dignity," the court wrote. "The prosecutor aggressively pressed this point to the jury in her eloquent closing argument."
A decision like this had been expected for over a year.  In March of 2015, the parts of New Jersey's bias crime law that focused on the victim's state of mind were struck down. At the time, the court wrote:
Unlike any other bias-crime statute in the country, N.J.S.A. 2C:16-1(a)(3) focuses on the victim's, not the defendant's, state of mind. The defendant's fate depends not on whether bias was the purpose for the commission of the crime but on whether the victim reasonably believed that was the purpose. Whether a victim reasonably believes he was targeted for a bias crime will necessarily be informed by the victim s individual experiences and distinctive cultural, historical, and familial heritage – all of which may be unknown or unknowable to the defendant.
Taking into account the precedent set last year, it was ruled that with regards to Ravi and the evidence of Clementi's embarrassment, "It is unreasonable to expect a rational juror to remain unaffected by this evidence." The prosecution has 20 days to decide whether or not they will be filing their own appeal.
[Photo: CBS News's YouTube Channel]
Have a tip we should know? [email protected]