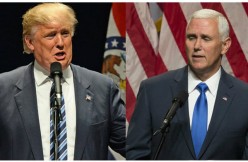 Minnesota's Democratic-Farmer-Labor Party is gunning for Donald Trump. On Thursday, the DFL, a local affiliate for The Democratic Party, petitioned the Minnesota Supreme Court to strike Trump and running mate Mike Pence from the state ballot.
"It is apparent that clear errors occurred in the Republican process of selecting alternative electors for getting Donald Trump on the Minnesota ballot," DFL Chair Ken Martin said in a statement. "It is incumbent upon political parties to follow the rules binding our elections and in this instance it does not appear that the Minnesota Republican Party did so."
The DFL says that the Minnesota GOP failed to elect ten alternate presidential electors at their state convention. Instead of properly fixing the mistake, the Republicans allegedly chose electors "in a closed-door meeting" rather than elect them.
"This is a violation of state law," the DFL says. Now they want Trump and Pence scratched from the ballot.
The Minnesota GOP, who says they properly filed the paperwork, claims this is just the Democrats being desperate and shady.
"Donald Trump got on our ballot fair and square, and it is outrageous that the Democrat Party would actually try to rig the election this way," party chairman Keith Downey said in a statement. "It sure smells bad when the Democrat Party petitions the Democrat Secretary of State [Steven Simon] to remove the Republican candidate from the presidential ballot. With Mr. Trump gaining strength every day and Hillary Clinton tanking in the polls, it appears Minnesota Democrats are very worried."
The full petition can be read here.
[Donald Trump via Gino Santa Maria and Shutterstock; Mike Pence via Lev Radin and Shutterstock]
–
Follow Alberto Luperon on Twitter (@Alberto Luperon)
Have a tip we should know? [email protected]