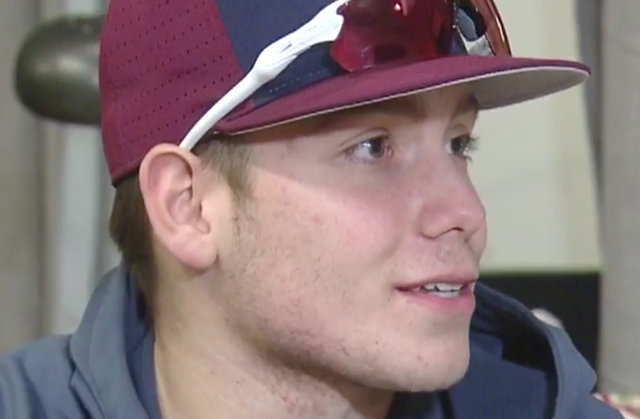 Gavin Bell just wants to play baseball in college. This senior at Cherokee Trail High School said he sent feelers to schools across the nation, asking for perspective on getting recruited. A coach at one university replied, but it was only to reject him flat-out. Why? Because Bell is from Colorado, which legalized recreational marijuana.
The reported letter by Texas Wesleyan head baseball coach Mike Jeffcoat, a retired MLB pitcher, went like this [emphasis ours].
Hi Gavin,

Thanks for the interest in our program. Unfortunately, we are not recruiting players from the state of Colorado. In the past, players have had trouble passing our drug test. We have made a decision to not take a chance on Student-athletes from your state. You can thank your liberal politicians. Best of Luck [sic] wherever you decided to play.
Bell told CBS4 in an interview published Wednesday that he emailed the message to his high school coach. It ended up getting tweeted by Denver radio host Darren McKee.
The letter didn't play well with Texas Wesleyan. On Thursday, they announced they fired Jeffcoat.
"The comments by him are in no way a reflection of Texas Wesleyan University or its values," the school said in a statement. "We do not tolerate discrimination. Texas Wesleyan values our students, values our student athletes, and values our diverse and inclusive campus."
They also claimed a NAIA (National Association of Intercollegiate Athletics) rule violation happened under Jeffcoat's watch. The school remained vague about the allegation because the investigation is ongoing, though they said they self-reported it to the NAIA, and that it has to do with "player eligibility."
"My intention really wasn't to do anything to hurt anybody or get anybody fired," Bell told CBS. "It was just me talking to my coaches and my loved ones about 'What do I do with this.'"
[Screengrab of Bell via CBS]
Have a tip we should know? [email protected]