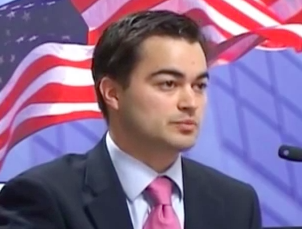 Hillary Clinton's former IT aide Bryan Pagliano will invoke his rights not to incriminate himself under the Fifth Amendment and decline to testify at a deposition next week in a FOIA lawsuit filed by the conservative legal watchdog group Judicial Watch.  Pagliano's lawyers also requested an order preventing any party from creating an audiovisual recording of him asserting those rights.
"As set forth below, Mr. Pagliano will invoke his right under the Fifth Amendment and decline to testify at the deposition noticed for June 6, 2016. Given the constitutional implications, the absence of any proper purpose for video recording the deposition, and the considerable risk of abuse, the Court should preclude Judicial Watch, Inc. ("Judicial Watch") from creating an audiovisual recording of Mr. Pagliano's deposition," the motion filed late on Wednesday states.
Pagliano is a central figure in the Clinton e-mail controversy as he is widely believed to be the individual who created and maintained Clinton's private server.  This is not the first time he has invoked his Fifth Amendment right to not testify.  Over the course of the last year, Pagliano has twice refused to testify before congressional committees investigating matters related to Clinton's use of a private e-mail server while serving as Secretary of State.  Pagliano also reportedly demanded and received an immunity deal from the Department of Justice prior to speaking with the FBI as part of the Bureau's investigation into the Clinton server.
Earlier this month, the State Department said it was unable to locate any of Pagliano's e-mails from his State Department e-mail account. When asked about Pagliano's missing e-mails, Former DOJ FOIA Director Dan Metcalfe told LawNewz.com "the whole thing stinks to high heavens."
Pagliano's request to prevent any audiovisual recording of his deposition goes even further than Cheryl Mills' request to seal the audiovisual recording, pending a further hearing.  The motion states:
While the Court's Sealing Order reduces the risk of dissemination, precluding video altogether is the only way to eliminate the potential harm to Mr. Pagliano. Under the current Sealing Order, audiovisual copies of the depositions will remain sealed only "until further order of the Court." Judicial Watch may move to unseal the materials at any time. Furthermore, in the event of a leak or data breach at the court reporting company, Mr. Pagliano would be hard- pressed to prevent further dissemination and republication of the video. Given that there is no proper purpose for videotaping the deposition in the first place, Judicial Watch's preference should yield to the significant constitutional interests at stake.
Judge Sullivan gave Judicial Watch until 5:00 PM on Thursday to file a response to the motion.
Have a tip we should know? [email protected]