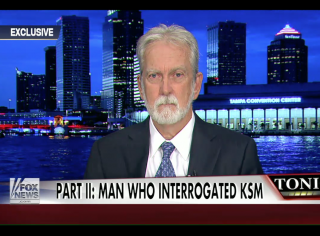 Two former CIA psychologists, James Mitchell and Bruce Jessen, partially admitted in a new court filing to administering some "enhanced interrogation techniques" to CIA "black site" detainee Abu Zubaydah.  The partial admissions come as part of a lawsuit filed over the death of another CIA "black site" detainee, Gul Rahman.
Lawyers for Mitchell and Jessen filed an Answer to the lawsuit on Tuesday evening, in which they initially state their clients "possess information that the United States considers 'classified; and, in addition, are bound by non-disclosure agreements which restrict Defendants' ability to disclose classified or other information."  Furthermore, they denied committing "torture, cruel, inhuman and degrading treatment, non-consensual human experimentation and/or war crimes…."
Nonetheless, the two psychologists did make some partial admissions to specific allegations previously made in the initial Complaint filed on behalf of Rahman.  For example, one partial admission states:
Defendants admit that on an occasion security personnel entered Zubaydah's cell and shackled and hooded him. They also admit that Jessen placed a rolled up towel behind Zubaydah's neck and "walled" him three or four times.
However, the psychologists deny further allegations made in this paragraph of the complaint including that they "slammed" Zubaydah into a "concrete wall."  The psychologists also denied an additional allegation that included claims of "repeated wall slamming."
Jessen and Mitchell further admitted that they placed Zubaydah in various sized confinement boxes and admitted "that they used facial slaps, abdominal slaps and facial grabs on Zubaydah in connection with asking Zubaydah about information about terrorist operations planned against the United States."
In another example, Mitchell and Jessen also admitted that "they administered the waterboard to Zubaydah…," but they denied waterboarding him a total of 83 times.
In a statement to LawNewz.com, Dror Ladin, an ACLU attorney in the lawsuit filed on behalf of Rahman, said, "This is historic. Until now, no one responsible for the CIA torture program has ever been forced to admit their actions in court. The psychologists' admissions include key details, and their denials are hard to square with the public record."
The ACLU added that they believe the admissions of Jessen's partial participation in administering some of the "enhanced interrogation techniques" are especially important. That is because this is believed to be the first time Jessen has admitted any sort of participation in relation to the CIA's enhanced interrogation program.
Earlier this year, U.S. District Court Senior Judge Justin Quackenbush denied the psychologists' motion to dismiss  the lawsuit.
After the ruling, ACLU attorney Ladin described Judge Quackenbush's decision as an "unprecedented ruling" and "a historic win in the fight to hold the people responsible for torture accountable for their despicable and unlawful actions."
In addition to claims related to the death of Rahman, the lawsuit also includes two additional plaintiffs who claim be victims of CIA abuses — Suleiman Abdullah Salim and Mohamed Ahmed Ben Soud. 
Have a tip we should know? [email protected]