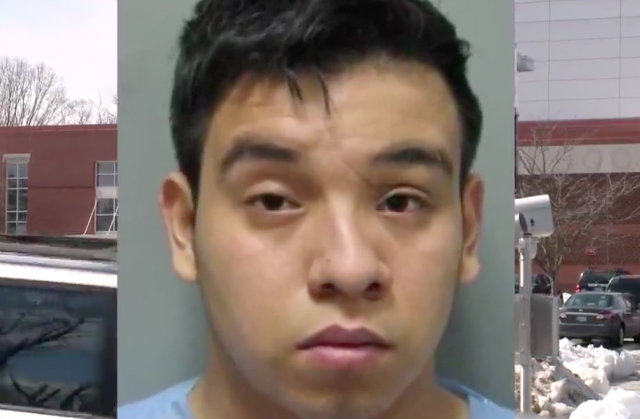 Prosecutors announced Friday that they will drop the sexual assault case against two undocumented teenagers charged with raping a 14-year-old girl, The Washington Post reports. Henry Sanchez Milian, 18, and Jose Montano, 17, had faced first-degree rape and first-degree sexual offense charges in Maryland.
The alleged victim claimed these two dragged her into bathroom at Rockville High School in Maryland, and assaulted her.
"Victim A was holding a sink to avoid going into the bathroom when Montano grabbed her hand and pulled her into the stall," police said in a report.
Defense lawyers argued it was consensual and that evidence failed to support the girl's claims. Sanchez Milian's attorney Andrew Jezic argued that there were no injuries, and the girl did not immediately run to a security officer. Prosecutors declined to comment to the Post before Friday's court hearing.
Montano had been charged as an adult.
The case caught national attention not only because of the brutal allegations, but because both defendants entered the country as undocumented immigrants. Sanchez Milian came from Guatemale, and Montano from El Salvador. In March, Press Secretary Sean Spicer used the story in support of President Donald Trump's hardline immigration policies. A WUSA report said the school district attracted threatening and racist messages.
#BREAKING Montgomery Co Schools says it's received 100s of racist & threatening calls, including"shoot all immigrants.". @wusa9 #Rockville

— Bruce Leshan (@BruceLeshan) March 23, 2017
This isn't the end for the teens' legal troubles, however. Both of their attorneys claim prosecutors brought up the possibility that they could face child pornography charges. Jezic said Montano had lewd images of the alleged victim on his cellphone, and sent these to Sanchez Milian. Jezic and Montano's attorney Maria Mena both complained that these hypothetical charges were ridiculous, and that teens commonly engage in this type of behavior.
Sanchez Milian's father also got dragged into this. While looking at the defendants, investigators decided Adolfo Sanchez-Reyes was undocumented too, and put him into custody. His attorney Himedes V. Chicas told the Post that his case is pending.
[Screengrab of Sanchez Milian via WUSA]
Have a tip we should know? [email protected]