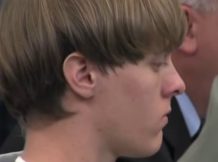 Dylann Roof's murder trial just began, and it might already be over. On Thursday, his attorney moved for a mistrial after a witness said the 22-year-old has no place on earth "except the pit of hell."
#DylannRoof attorneys move for mistrial after shooting survivor said, "He's evil. There's no place on earth for him except the pit of hell."

— Jennifer Berry Hawes (@JenBerryHawes) December 8, 2016
#DylannRoof defense moves for mistrial b/c shooting survivor indicated preference on sentencing when she said he should be in "pit of hell."

— Jennifer Berry Hawes (@JenBerryHawes) December 8, 2016
On Wednesday, witness Felicia Sanders testified that she and her 11-year-old granddaughter hid under a table as the defendant fired 77 rounds, killing nine people, all black, at the Emanuel African Methodist Episcopal Church on June 17, 2016. Her 26-year-old son Tywanza Sanders and 87-year-old aunt Susie Jackson were among the victims. Sanders said she had to muffle her granddaughter to keep quiet, and worried she might accidentally suffocate her.
Defense lawyer David I. Bruck asked Sanders only one question, about whether Roof had mentioned his young age (21 at the time). He'd reportedly been trying to focus the jury on the defendant's youth.
Sanders answered that Roof said he was going to commit suicide.
"I was counting on that," she said. "He is evil. There is no place for him except the pit of hell."
A similar motion happened last week during the murder trial of Lester Jones. A witness called him a "piece of crap killer" as jurors left the courtroom, and the defense wanted a mistrial. They didn't get their way.
It unlikely that a mistrial would really benefit Roof in the long-run anyway. During his opening statement, Bruck admitted his client did it, claimed that the possibly unstable defendant shouldn't get the death penalty. The defense lawyers have said that Roof would plead guilty as long as prosecutors promised not to seek the dealth penalty.
"In fairness and in mercy, our society does not invoke the death penalty if there are reasons to choose life, a life in prison," he said. "We do not behave like the person who committed this crime."
Roof, who prosecutors was motivated by anti-black racism, had been set to defend himself against 33 counts in federal court, but that's been tweaked a bit. Bruck and his team will cover the guilt phase of the trial while Roof will handle the penalty phase.
He also faces a state trial, set to begin January 2017.
Update – December 8, 12:37 p.m. EST: Added supplementary info regarding Roof's reported willingness to plead guilty.
[Screengrab MSNBC]
Have a tip we should know? [email protected]