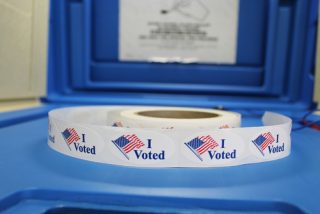 Two women in Florida are facing election fraud charges in unrelated cases involving illegally marking ballots, and filling out fake voter registration forms. One of the suspects is 74-year-old Gladys Coego, a temporary worker at the Miami-Dade County Elections Department, according to The Miami Herald. 
Two examples of voter fraud by election officers, caught by other election officers, in non-partisan races in FL. https://t.co/3zqlEWmCRh

— Brian W. Schoeneman (@BrianSchoeneman) October 28, 2016
She apparently was in charge of opening envelopes for the completed ballots, and she's accused of illegally marking some of them in favor of mayoral candidate Raquel Regalado. She's expected to turn herself into jail Friday morning and is facing two felony counts for illegally marking ballots.
The other case is not related and involves a woman allegedly filling out fake voter-registration forms on behalf of United for Care, which advocates for the legalization of marijuana. The Miami-Dade State Attorney's office told The Miami Herald that they plan to charge Tomike Curgil with five felony counts of submitting false voter-registration information.
"Anyone who attempts to undermine the democratic process should recognize that there is an enforcement partnership between the elections department and our prosecution task force in place to thwart such efforts and arrest those involved. Now we need to move forward with the election," Miami-Dade State Attorney Katherine Fernández told the local newspaper in a statement.
Have a tip we should know? [email protected]
Rachel Stockman - President / On Air Host