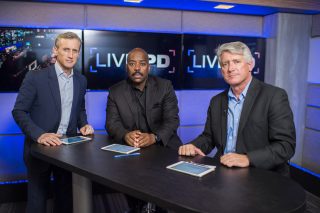 With police activity a hot button issue across the country, a new television show is looking to give the public a transparent view into the world of the men and women who serve on America's police forces. 'Live PD,' which premieres Friday night on A&E, will use dashcam footage and other cameras to show in real time what officers in six different urban and rural police forces encounter on a typical night, and how they respond in those situations.
"Every day the demands for more transparency in law enforcement continues to come from both civilians and police across the country," said Rob Sharenow, Executive Vice President and General Manager of A&E. "'Live PD' will not only highlight the difficult work being done by our men and women in uniform as they go out into the streets never knowing what to expect, but also answers citizens' calls for clarity."
The series will consist of eight two-hour episodes, hosted by LawNewz.com founder Dan Abrams, alongside Dallas Police Department Detectives Rich Emberlin and Kevin Jackson. While viewers see video of what the police are doing, Abrams, Emberlin, and Jackson will provide analysis of what happens as it's happening. There will also be a live social media element, allowing viewers to participate.
Abrams tell us "what makes this show different than anything that has been done before is that we are learning what is happening in real time, along with the police. That means we see the good and the bad in an unfiltered way. With body cameras being embraced by police departments around the country, I can't think of a better time for this show."
'Live PD' premieres tonight, Friday, October 28 at 9pm ET/PT.
[Image via Scott Gries/A&E ]
Have a tip we should know? [email protected]