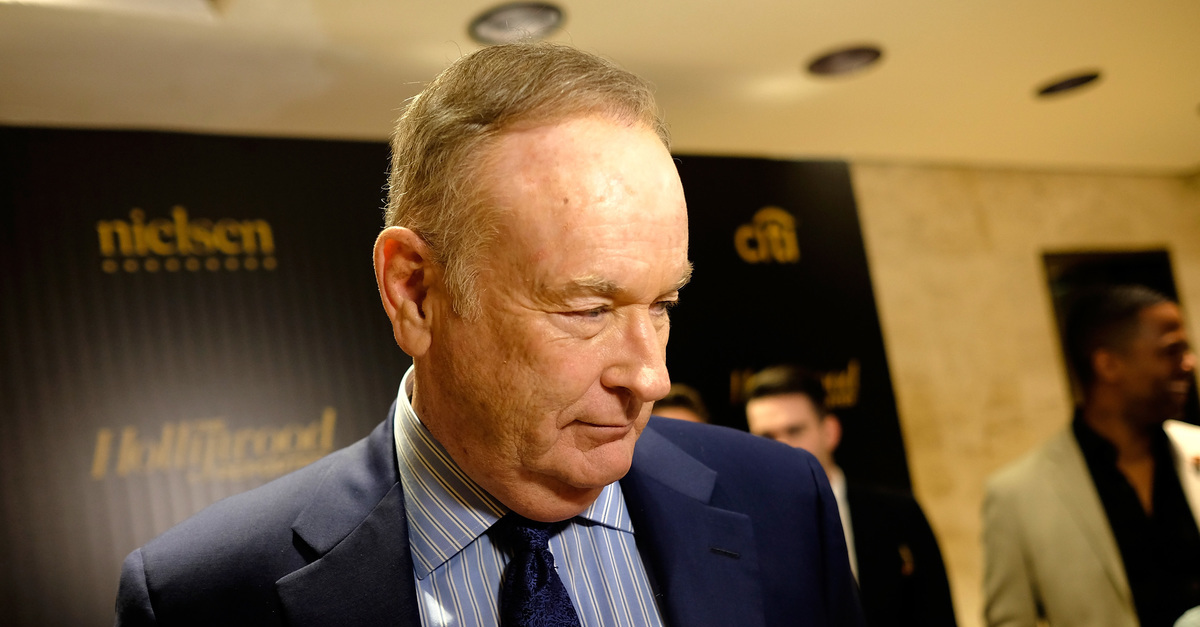 Former Fox News anchor Bill O'Reilly has unceremoniously killed the $5 million defamation threat he made against a man who defended his ex-girlfriend on social media. O'Reilly, the fallen star anchor ousted from Fox News amid a sexual harassment scandal, previously threatened to sue Michael Panter for "making defamatory and false statements in a publicly-available social media post," but never actually filed the complaint to move the case forward.
Panter, formerly a State Assemblyman in New Jersey, was the ex-boyfriend of one of O'Reilly's accusers. While the woman was bound by a non-disclosure agreement, Panter was not. He took it upon himself to respond to O'Reilly "spinning his falsehoods almost daily."
"This week he again said he did nothing wrong, while suggesting he's been persecuted and had very few complaints 'to Human Resources' during his decades at Fox. Bill should be aware that not everyone is bound by a non-disclosure … I am not," Panter said at the time. "My ex's career was largely dependent on staying in O'Reilly's good graces. For that reason, she was always hesitant to tell me some details — likely out of fear than I could jeopardize her career by becoming involved. Sometimes information would slip out."
Panter claimed that O'Reilly coordinated with former Fox News executive Bill Shine to coerce his ex-girlfriend into providing dirt on a woman who had accused O'Reilly of sexual harassment. Shine is now President Donald Trump's White House Deputy Chief of Staff for Communications.
Although O'Reilly initially considered Panter's social media post "false," "defamatory" and an attempt at "hurting Bill O'Reilly and his family," O'Reilly has not pursued this matter any further, according to Panter's attorney Lisa Bloom.
Her law firm said in a press release on Tuesday that "As soon as The Bloom Firm appeared in the case, announced it would fight, and moved the case to federal court, O'Reilly and his attorneys went silent."
The Bloom Firm said that O'Reilly failed to follow through, so they moved to dismiss the case on Oct. 30. One week later, they say, O'Reilly "capitulated" and "voluntarily" dismissed his case.
"Here was a man standing up for women in the #MeToo movement. We need more men like Michael Panter! So I immediately decided to represent him in this case," Bloom said. "In my opinion, Bill O'Reilly is a bully who attempted to use the legal system to generate publicity for himself and to scare a decent man into retracting his support of O'Reilly's accusers."
"He failed. The bully backed down when Michael Panter and our legal team stood up to him," Bloom added. "We are delighted to have achieved this complete and total win for Michael Panter!"
Law&Crime reached out to O'Reilly for comment, but there was no response at time of publication.
Michael Panter has released the following statement:
I spoke out against Bill O'Reilly on behalf of the women he had reportedly silenced, and countless others who have never had their voices heard. He learned today that no amount of wealth or fame can silence the truth when people with shared principles band together. This fight was not about me, but the rights of victims and their loved ones to speak up without fear.

I am deeply grateful to everyone who offered their support. We need meaningful change in our legal system, since the complexity and cost of litigation exclude too many from finding justice. Mr. O'Reilly used our courts as his own public relations tool, hoping those challenges would scare me away. They didn't. He has withdrawn his case after seeing our arguments and knowing he was one 1 week away from answering them before a federal judge.

If I serve New Jersey in public office again, I will focus on ensuring that that there is a steep price to pay for bringing frivolous lawsuits – whether for press, intimidation or to make a quick buck. This is a perversion of our justice system which is funded by our tax dollars. Finally, I want to thank Lisa Bloom, Anna Levine-Gronningsater and Arick Fudali for their tireless work on my behalf. Lisa possesses a rare mix of legal expertise and a genuine devotion to her clients that is invaluable to any David facing a Goliath.

This week Goliath fell.
Editor's note: this story was updated after publication with Michael Panter's statement.
[Image via Dimitrios Kambouris/Getty Images]
Have a tip we should know? [email protected]