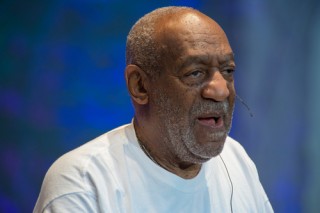 In a very unusual move, Bill Cosby has filed a lawsuit against Andrea Constand, the very woman whose allegations are the heart of a Pennsylvania criminal case against him. Cosby apparently filed this lawsuit the day before he was set to appear in a criminal hearing over a motion to dismiss his case, according to The New York Times. The lawsuit is a breach-of-contract claim reportedly filed against Constand, her lawyer, her mother and TheNational Inquirer's Publisher.  The defendants, in this case, are subject to a confidentially clause, as a result of a confidential settlement between Cosby and Constand in 2005. It is unclear at this point what exactly the lawsuit alleges.
Constand told investigators that Cosby drugged and raped her at his Pennsylvania home back in 2004. She also filed a lawsuit against him at the time. A Pennsylvania district attorney charged Cosby with aggravated indecent assault in December just before the statute of limitation ran out.
"Obviously they're [Cosby's team] trying to fight on as many fronts as they can," Ann Poulin, a law professor at Villanova University told The New York Times. The move is unusual , and Poulin commented it might be an attempt to buy time.
During the early February hearing, a judge denied Cosby's motion to dismiss the case. Cosby's attorneys argued that he should be barred from prosecution based on a nonprosecution agreement with former Montogermy District Attorney Bruce Castor.
[h/t The New York Times, Screengrab via Shutterstock]
Have a tip we should know? [email protected]
Rachel Stockman - President / On Air Host