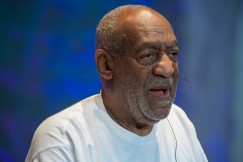 Bill Cosby's sexual assault case is moving forward after a judge ruled against the comedian's attempt to appeal a pre-trial issue, according to ABC News. The defense claimed that a previous district attorney had promised that Cosby would never be charged over allegations that he drugged and assaulted a former Temple University employee in his Philadelphia home.
Earlier this month, Montgomery County Judge Steven O'Neill ruled that the evidence of an agreement between Cosby and the DA was insufficient to effect the case and Cosby sought to appeal the ruling in state Superior Court. Judge O'Neill wrote in an order that an appeal "would not materially advance the ultimate termination of the matter."
Had the judge granted the appeal, it could have delayed Cosby's preliminary hearing, which will take place as scheduled on March 8.
[h/t ABC News Image via Randy Miramontez/Shutterstock]
Have a tip we should know? [email protected]