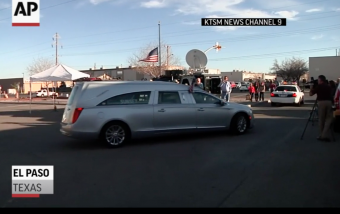 When Justice Scalia was found dead last Saturday at Cibolo Creek Ranch near Marfa, Texas, authorities sprang into action. They soon learned that the two county justices of the peace, whose job includes acting as the county coroner, were out of town. They reached another official, Presidio County Judge Cinderela Guevara, who pronounced Justice Scalia dead, over the phone, based on information communicated by those at the ranch. She then had to determine whether to call for an autopsy. After speaking with local and federal law enforcement and, later in the day, Justice Scalia's personal physician, she was apparently satisfied that no autopsy was warranted, particularly because there was no evidence of foul play.
Former death investigator Joseph Scott Morgan is troubled that, at least according to what is publicly known, a limited examination did not occur. Morgan, who spent more than 20 years investigating deaths in Louisiana and Georgia, and authored a memoir about his career, believes that, at a minimum, a thorough external examination should have been done, together with collection of bodily fluids for testing. If nothing else, that would put to rest conspiracy theorists.
"Cases like this show you need a solid system. He was found dead; it was not a witnessed death. That is very troubling to me," he told LawNewz.com.
Once Judge Guevara determined that an autopsy wasn't required, it became a discretionary decision of Justice Scalia's family. They could have asked for a private autopsy but chose not to, and were completely within their rights in doing so.
Details about Justice Scalia's health are confidential because of medical secrecy laws though there are reports that he suffered from high blood pressure and was not strong enough to undergo shoulder surgery close in time to his death. He had seen his doctor twice in the days before traveling to Texas.
As it turns out, death investigations vary from state to state and Texas's system is one of the most unique—which is not necessarily a good thing. Following are answers to some basic questions about death investigations and why Texas stands out.
What is a death investigation?
Death investigations examine the circumstances surrounding sudden and unexplained deaths. They are not necessarily criminal though law enforcement may be involved. A medicolegal death investigator represents the coroner's or medical examiner's office—a public office that operates independently of the police.
How are death investigations managed across the country?
Each state has its own system for handling death investigations.
Sixteen states have a centralized medical examiner's office through which all death investigations are managed. Eleven states have a county coroner system. Six states have a county medical examiner system. Sixteen states have a mixture of county coroner and county medical examiners. Then there's Texas. While Texas is categorized as a county medical examiner state, it's really a mixture of a justice of the peace acting as a coroner and a medical examiner. In Texas, medical examiner's offices are located in the more populated counties such as Harris (Houston) and Dallas. The remote area where Justice Scalia died has no medical examiner. Instead, the county justice of the peace acts as coroner.
What is the difference between a coroner and a medical examiner?
Generally coroners are elected officials who are not physicians. Coroners will consult a physician—typically with a specialty in forensic pathology—if an autopsy is required. Medical examiners are physicians appointed to the position and are usually board-certified as forensic pathologists.
In Texas, a justice of the peace who acts as a coroner is elected to four-year terms. The medical examiner is an appointed physician. While it is not mandatory that the physician have training in pathology, it is strongly recommended.
In Texas, when is an investigation required?
Under the Texas Criminal Procedure Code, Section 49.04, there are a number of scenarios that call for an investigation. One is where a "person dies without having been attended by a physician." The death of Justice Scalia technically fits this definition.
In Texas, who decides whether to order an autopsy?
The purpose of an autopsy is to determine the cause and manner of death particularly under sudden or suspicious circumstances. In Texas, the medical examiner or justice of the peace acting as a coroner will assume jurisdiction and order an autopsy under certain circumstances. The decision whether to order an autopsy is made after consulting with witnesses, police, medical personnel, and perhaps family.
For more information on death investigations in general, see Frontline's piece, Post-Mortem: Death Investigation in America. Also, see the Centers for Disease Control's comprehensive, state-by-state survey of coroner/medical examiner laws.
Stay with LawNewz.com for updates on this investigation.
[screen grab via NBC News and AP video]
Have a tip we should know? [email protected]