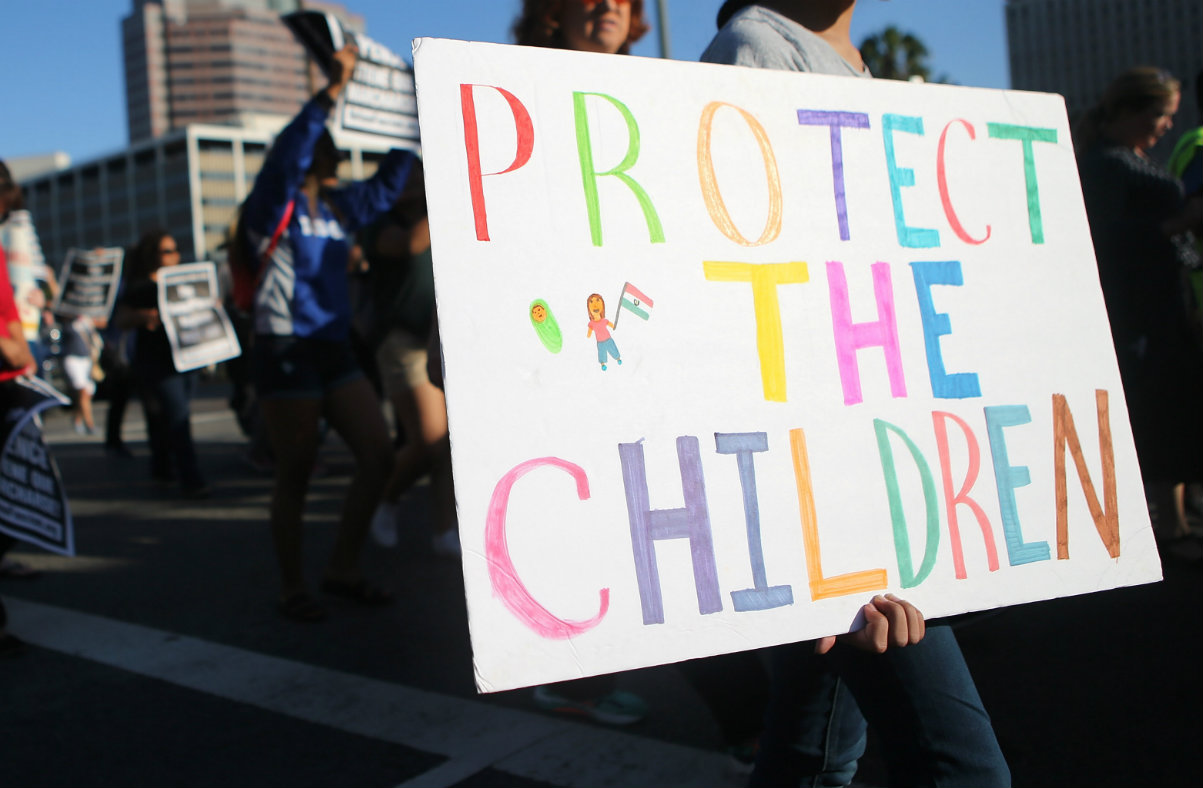 There's a new development in the ongoing lawsuit brought by three parents separated from their children. A plaintiff identified as A.P.F. said he last saw his 12-year-old daughter on June 5, and knows little about what happened to her. Being away from her and kept in the dark about her situation is "torture," he wrote according to a Friday court filing. He and the two other parents are seeking a temporary restraining order with immediate access to basic information about their children's whereabouts and condition. They also demand the ability to frequently see and hear the kids.
The lawsuit was first filed Wednesday in D.C. federal court. A.P.F. and co-plaintiff E.F., a mother of a 9-year-son, were separately convicted of improper entry to the United States and sentenced to time served. Even so, they are being kept away from their children, and remain detained, the lawsuit said. They are applying for asylum. M.G.U., the mother of 2, 6, and 13-year-old, said she followed the law by going to a port of entry in San Ysidro, California. She applied for asylum after fleeing Guatemala due to death threats. Nonetheless, federal authorities separated her from her kids.
All three parents say they are only allowed irregular, brief contact with the kids. Government officials are separating them from their children indefinitely. Parents are not being told about what will lead to reunification, who is caring for their kids, or where the children are. They claim they are not allowed the regular ability to contact them. The new filing cited experts who said this situation can cause serious damage.
"If individual families are detained separately, a lack of information regarding each other's well-being or status has a negative effect on both children and parents," said Dr. Lisa Fortuna, according to the new filing. "In addition to the trauma of separation, being detained without information can induce profound hopelessness, despair, depression and even suicidal urges."
This violates their constitutional rights, the filing argued. The government is punishing parents by withholding information, attorneys wrote. The thing is, the Fifth Amendment prohibits punishments for people not serving sentences for crimes. In this case, it is argued that this is a punishment because the government expressed an intent do so, and because conditions exceed a legitimate non-punitive purpose. For support, the plaintiff's attorneys cited White House Chief of Staff John Kelly's May interview with NPR, in which he described family separation as a deterrent. The filing also cited a similar statement back in March 2017, when he was DHS secretary and suggested family separation as a possible policy.
Attorneys argue that the government has no compelling interest to keep the parents in the dark, and defendants are unable to name the harm incurred by giving the adults daily information about the children.
The Department of Homeland Security, Immigration and Customs Enforcement, and Health and Human Services did not immediately respond to a Law&Crime request for comment on Friday afternoon. Customs and Border Patrol, another co-defendant, said on Wednesday that they cannot comment on pending litigation.
Ronn Blitzer contributed to this report.
[Image via Mario Tama/Getty Images]
Have a tip we should know? [email protected]