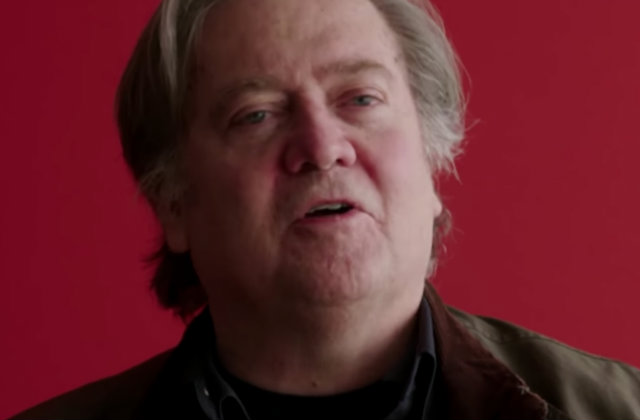 On Sunday, former White House Chief Strategist Steve Bannon apologized after he was quoted in a book making legally problematic statements about President Donald Trump's son Donald Trump, Jr. 
"Donald Trump, Jr. is both a patriot and a good man," he said in a statement obtained by Axios. "He has been relentless in his advocacy for his father and the agenda that has helped turn our country around."
In Michael Wolff's book Fire and Fury: In the Trump White House, Bannon is quoted as suggesting that Trump, Jr. definitely told his father's office about the June 2016 meeting with a Russian lawyer at Trump Tower. Senior Adviser to the President Jared Kushner and then campaign manager Paul Manafort also attended the meeting, which started after an intermediary promised dirt on Democratic candidate Hillary Clinton.
"The chance that Don. Jr did not walk these Jumos up to his father's office on the 26th floor is zero," he is quoted as saying. He also reportedly said about Special Counsel Robert Mueller's probe: "They're going to crack Don Junior like an egg on national TV. He reportedly also called the Trump Tower meeting "treasonous" and "unpatriotic.
Not a good look, especially since the special counsel is investigating whether the Trump campaign helped Russia interfere in the 2016 presidential election.
Bannon said that his statements were based on his experience in the Navy during the Soviet era.
"My comments were aimed at Paul Manafort, a seasoned campaign professional with experience and knowledge of how the Russians operate," he said in Sunday's statement. "He should have known they are duplicitous, cunning and not our friends. To reiterate, those comments were not aimed at Don Jr."
He continued to insist that the collusion allegations were a "witch hunt" and that "I regret that my delay in responding to the inaccurate reporting regarding Don Jr. has diverted attention from the president's historical accomplishments in the first year of his presidency."
Bannon's statement follows a legal threat from the Trump team. The president retained an outside lawyer Charles Harder, who sent Bannon a letter threatening legal action. He claimed the former Chief Stategist broke a NDAs "by, among other things, communicating with author Michael Wolff about Mr. Trump, his family members, and the Company, disclosing Confidential Information to Mr. Wolff, and making disparaging statements and in some cases outright defamatory statements to Mr. Wolff about Mr. Trump, his family members, and the Company."
The president and his spokespeople continue to dispute the veracity of Wolff's book, and they also burnt bridges with Bannon. Trump has taking to calling him "Sloppy Steve." For his part, the former Chief Strategist is taking a lighter tone against his old boss.
"President Trump was the only candidate that could have taken on and defeated the Clinton apparatus," he wrote. "I am the only person to date to conduct a global effort to preach the message of Trump and Trumpism; and remain ready to stand in the breech for this president's efforts to make America great again."
[Screengrab via NY Times]
Have a tip we should know? [email protected]