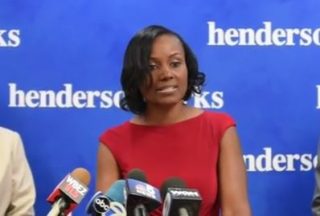 The winner of a judicial election may not get to serve — because she once allegedly impersonated a judge. Rhonda Crawford is currently facing an indictment and a suspended law license for pretending to be a judge and hearing cases.
Illinois' highest court had already blocked Crawford from being sworn in before the election took place, but that didn't stop her from getting more votes than her opponent, sitting judge Maryam Ahmad, who staged a write-in campaign. Ahmad was not pleased with the results. "She's not the winner," she told The Chicago Sun-Times. "She can't take the bench. She's just the person who got the most votes."
Crawford's scandalous misdeed took place last August, when she was clerking for Circuit Judge Valarie Turner. Turner gave her robe to Crawford, and allegedly let her preside over three traffic cases. When it was discovered that Crawford wasn't the real judge, the cases had to be dismissed. Chief Judge Timonty Evans, who hired Crawford for her position with the 1st Judicial Subcircuit, which includes Chicago's South Side, fired her immediately. Judge Turner was relegated to administrative duty, but went on medical leave soon after.
Crawford said at a September press conference that she did not decide any cases or make any judgments. "I did not tell anyone I was the judge," she claimed, saying she had been shadowing Turner, who instructed her to take the bench.
Despite winning, Crawford will not be able to serve as a judge if she permanently loses her law license or is convicted of a felony, according to the Sun-Times. She is scheduled to face a disciplinary hearing that will determine the fate of her bar status, and has been charged with one felony count of official misconduct and one misdemeanor count of false impersonation. If Crawford is disqualified from serving, the state Supreme Court can fill the position with someone else, who would serve until the 2018 election.
[Screengrab via Chicago Sun-Times]
Have a tip we should know? [email protected]