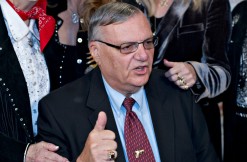 Sheriff Joe Arpaio's problems a got a little bigger. His contempt of court case is going federal, according to The Chicago Tribune.
On Friday, Judge Murray Snow, working out of the U.S. District of Arizona, ruled that probable cause existed for the following: 1) Arpaio purposefully failed to turn over records to a court official, even though he'd promised to do so under oath [The sheriff was allegedly running an investigation into the judge to discredit him]; 2) he continued immigration patrols even though Snow told him to stop; and 3) aide Jerry Sheridan hid about 1,500 stolen IDs [His deputies allegedly pocketed items during traffic stops].
All of this spun out of a civil, racial profiling lawsuit against Arpaio, who heads the Maricopa County Sheriff's Office in Arizona. The complaint alleged he engaged in systemic abuses. The self-styled "America's Toughest Sheriff" is infamous for his tough talk against undocumented immigrants. He was already found in contempt of court because of the aforementioned issues (refusing to stop immigration patrols, etc), but that wasn't a criminal issue until now. Another judge, not Snow, will preside over this separate case.
[image of Arpaio via Christopher Halloran and Shutterstock]
–
Follow Alberto Luperon on Twitter (@Alberto Luperon)
Have a tip we should know? [email protected]