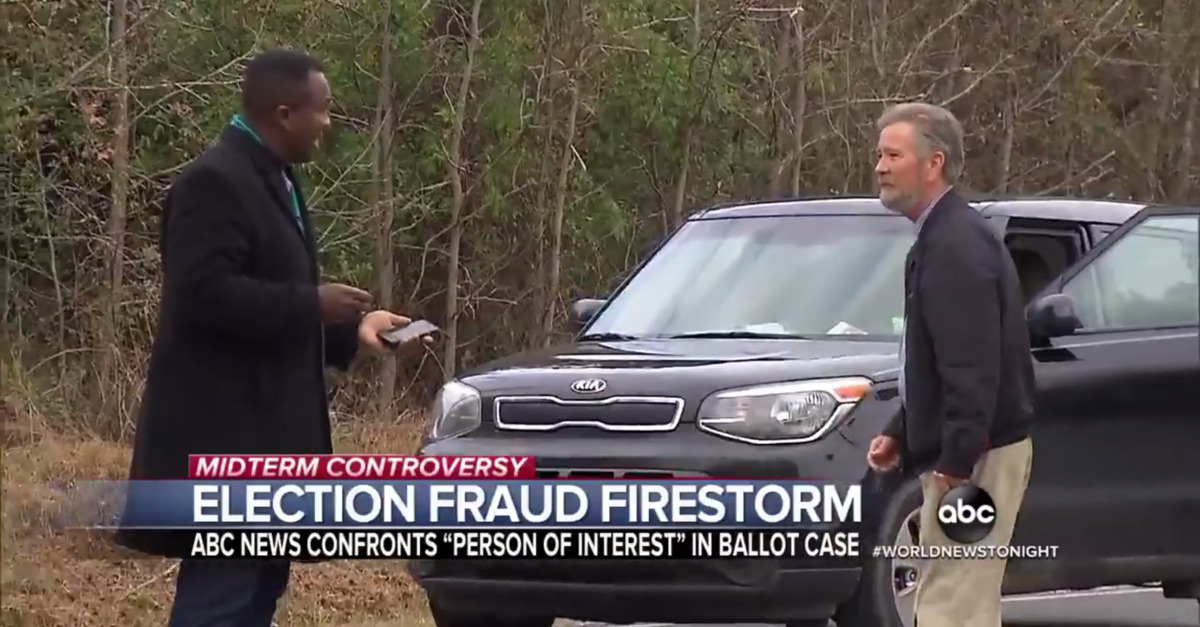 Republican Mark Harris bested Democrat Dan McCready by 905 votes in the race for North Carolina's 9th congressional district. Since election night, however, it's been alleged that the GOP's victory was tainted by the fraudulent harvesting and/or destruction of Democratic Party absentee ballots.
This fraud, critics contend, was engineered by one man: Harris campaign operative McCrae Dowless. A new report by the News & Observer suggests that Dowless had an especially cozy relationship with election officials in Bladen County–the county where most of the fraudulent absentee ballot activity is believed to have occurred.
Jens Lutz is a former vice-chair of the Bladen County Board of Elections who resigned in mid-December amidst the controversy. It was reported that Lutz had previously ran a political consulting firm with Dowless. Lutz defended himself by claiming that this business venture was a deep cover operation undertaken "to figure out how [Dowless] was operating."
An affidavit provided to the North Carolina Board of Elections and Ethics Enforcement by Lutz alleges that "[b]oard staff allowed Mr. Dowless to take and copy unredacted absentee ballot request forms, which include social security numbers, driver's license numbers, state ID numbers, and signatures. According to Lutz, "this information gave Mr. Dowless the ability to request absentee ballots for anyone who has ever voted by absentee ballot by mail in the recent past."
This exceptional access to private voter information was apparently due to Dowless' "close relationship[s] with Cynthia Shaw, the Bladen County Board of Elections Director, and Gina Ward, the Bladen County Board of Elections Deputy Director," Lutz contends.
The affidavit continues:
In the course of our supervisory duties, we discovered that several forged absentee ballot request forms were submitted for the 2018 general election, including one request form on behalf of a deceased person, another submitted on behalf of a relative of fellow Board member Bobby Ludlum, and another submitted on behalf of a relative of Ms. Shaw. When I asked Ms. Shaw whether she had provided the State Board of Elections with the absentee ballot request form that had been submitted on behalf of the deceased individual, she informed me that she had not and that she had instead contacted Mr.Dowless and talked to him about it. I had previously provided a copy of the request form and a copy of the death certificate to the State Board of Elections.
And the allegations don't quite end there.
It is my understanding that Open Records Laws allow citizens to receive information from County Boards of Election regarding when absentee ballots would be sent to specific voters," the Lutz affidavit reads. "Mr. Dowless abused this provision in the law by regularly receiving such information…from Board staff, allowing Mr. Dowless to send his workers to those voters right after the ballots arrived."
Lutz also notes that "the race of the voter is included" in the reports allegedly provided to Dowless by board staff. The former vice-chair speculates that such identifying information could have been used to "target African American voters."
"On one occasion in the fall of 2018, I witnessed Mr. Dowless pressuring Board staff to provide this information to him," Lutz says.
The shocking allegations also appear to implicate Shaw directly.
"Ms. Shaw had the ability to access the mail-in absentee ballot results prior to Election Day," Lutz claims. "She could do this by taking the thumb drive from the mail in absentee ballot voting machine and inserting it into a computer that could read the results. She did not need to print a voting machine tape to get the results…I know of one person who claims to have overheard Mr. Dowless bragging about pre election candidate vote totals to multiple people after one-stop in-person, early voting ended, indicating that he was aware of the one-stop early voting totals, and that the candidate or candidates he supported were in the lead."
[image via screengrab/ABC]
Have a tip we should know? [email protected]