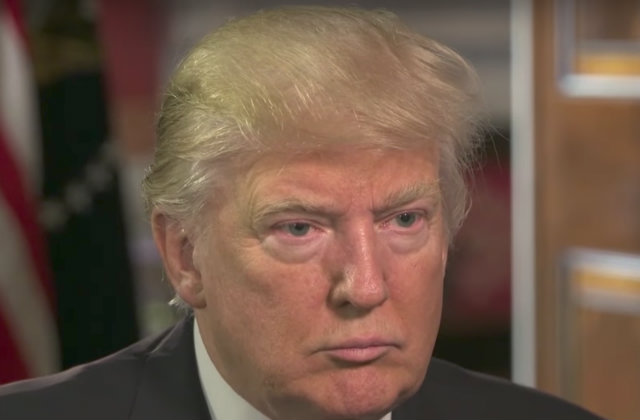 The American Civil Liberties Union filed a Freedom of Information Act request on Thursday to learn why President Donald Trump thinks there is voter fraud.
This comes after POTUS signed an Executive Order to implement a commission to examine voter fraud in federal elections.
"The Commission shall, consistent with applicable law, study the registration and voting processes used in Federal elections," it says. When done, they'd report to Trump on relevant policies, and vulnerabilities in voting systems.
The ACLU's FOIA request targets our head-of-state's public comments on voter fraud, citing a Jan. 25 interview with ABC. It is old news that Trump has claimed that millions of people voted illegally in the 2016 election, but he didn't provide his sources.
In addition to winning the Electoral College in a landslide, I won the popular vote if you deduct the millions of people who voted illegally

— Donald J. Trump (@realDonaldTrump) November 27, 2016
The ACLU's stance: Prove it.
"This FOIA demands that the government release the factual bases and evidence supporting the President's allegations," they say.
The legal action argues that for years and years, politicians have used voter fraud allegations to clamp down on the voting rights of African Americans.
If, consistent with history, federal and state governments are planning to rely on the results of this Department of Justice investigation to justify voting discrimination, then the health of our democracy urgently demands that the public know the bases for such potential discrimination immediately.
With that in mind, the ALCU wants all kinds of records created on or between November 9 and Thursday. This involves documents having to do with "actual or potential" voter fraud in the November 2016 general election: legal opinions, memoranda, findings, factual evidence, studies, audits, advisories, communications (including emails, letters, social media posts, and Twitter direct messages) among the POTUS's or VP's staff, and "changes or potential changes" to policy that might arise from this commission.
We've reached out to the White House for comment.
In their press release, the ACLU also took shots at the man who will vice-chair the commission: Kansas Secretary of State Kris Kobach, known for his hardline support of Voter ID laws.
Voter fraud convictions do happen, but the argument is over whether this practice is widespread, and whether efforts to combat fraud are actually bigoted. Successful legal challenges to voter ID laws have claimed such statutes were implemented in a racist fashion. Back when Green Party presidential candidate Jill Stein tried to get recounts in Michigan and Pennsylvania, even Trump lawyers argued there was no evidence of voter fraud.
[Screengrab via ABC]
Have a tip we should know? [email protected]