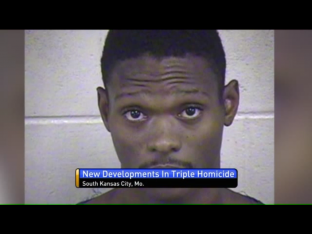 The murder case against a Kansas City man accused of killing three people, including his 1-year-old son, might be in jeopardy after the defendant married the state's key witness against him.
In September 2015, Kansas City police began investigating a brutal triple murder involving the deaths of Bianca Fletcher, her 1-year-old son, and her boyfriend, Shannon Rollins.
During the investigation, Shellana Victoria Davis told police she went to the victims' home with her boyfriend, Joseph Nelson, where she saw him shoot all three victims after an argument. She also told investigators that she helped Nelson pickup and destroy evidence that would link him to the crime, including shell casings.
Davis' police statement provided the basis to for prosecutors to bring charges against Nelson and he was arrested, charged with the murders and held in jail on $1 million cash bond.   Nelson denied any involvement in the crime.
At some point after his arrest, Nelson and Davis applied for a marriage license. When prosecutors became aware of this, they scrambled to obtain a court order to formally interview Davis on videotape, prior to the marriage. However, the two were married before the court ruled on the motion.
Now prosecutors face a very real possibility that the entire murder case might be in jeopardy because Missouri's spousal privilege law prevents one spouse from having to testify against the other in a criminal prosecution.
In an interview with the Kansas City Star, University of Missouri School of Law professor Frank O. Bowman III explained how the spousal privilege applies to this case. According to Prof. Bowman, the privilege law will protect Davis from having to testify against Nelson and it will also likely block the admission of her prior statements to police on hearsay grounds and as a violation of his constitutional right to confront his accuser.
Without Davis' testimony placing Nelson at the scene, it is possible prosecutors will not have sufficient evidence linking Nelson to the crime.
All may not be lost, however, as the spousal privilege statute does contain an exception for crimes involving a victim under the age of 18. It is unclear exactly how that exception applies to a case with multiple victims, only one of whom is under the age of 18.
As soon as the wedding became official prosecutors decided to no longer treat Davis as just a witness and she now faces one count of burglary and two counts of tampering with evidence. She is being held on $75,000 bond.
[image via screengrab]
Have a tip we should know? [email protected]