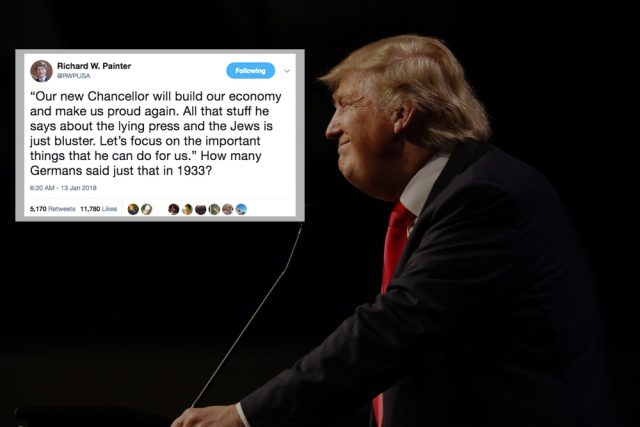 A former White House ethics attorney has likened President Donald Trump's latest verbal controversy to the atmosphere in Germany in 1933–the same year Adolf Hitler was appointed chancellor.
Richard W. Painter currently serves as vice-chair of Citizens for Responsibility and Ethics in Washington ("CREW") and is also a professor of law at the University of Minnesota. He previously served as chief White House ethics counsel for President George W. Bush from 2005-2007.
In a tweet sent today at 6:08 a.m., Painter wrote, "His kind of rhetoric is the warning sign. There is a short time for the warning to be heeded. Then it happens. Germany, 1933." Appended to Painter's tweet was another tweet–sent by Libyan War architect Samantha Power–relaying dismay on behalf of the United Nations' African Group of Ambassadors.
Painter's Twitter following quickly seized upon the remarks, posting various Nazi-themed accusations against the Trump administration–including references to the Reichstag Fire, images of historical Nazi Party members, and press clippings from 1933.
Leaving nothing to the imagination, Painter followed up his initial tweet with another sent just 12 minutes later. Today at 6:20 a.m., Painter tweeted:
"Our new Chancellor will build our economy and make us proud again. All that stuff he says about the lying press and the Jews is just bluster. Let's focus on the important things that he can do for us." How many Germans said just that in 1933?
The reaction to Painter's second "Trump is basically Hitler" tweet was even more robust. Many Twitter users attempted to answer his rhetorical question. Others shared images likening Trump's treatment of the press to actions by U.S.-supported dictators like Pol Pot, Benito Mussolini and Saddam Hussein.
Law&Crime reached out to Painter for further explanation on the specific parallels he sees between Trump's actions as president and the ascendancy of Adolf Hitler during the 1930s. Specifically, Painter was questioned as to whether he believes Trump's treatment-of-and-relationship-to the press is better or worse than the treatment-of-and-relationship-to the press exhibited by the George W. Bush administration–in which Painter formerly served.
Painter's accusations are perhaps the most interesting treatment of the "shithole countries" scandal so far.
According to various accounts, Trump recently referred to Haiti, El Salvador and African nations as "shithole countries." The president quickly denied making the remarks–which were then confirmed by multiple people in attendance at the meeting in question. A lengthy run-down of the incident came from Senator Dick Durbin (D-IL.) During a press conference yesterday, Durbin said:
You've seen the comments in the press, I've not read one of them that's inaccurate. To no surprise, the president started tweeting this morning denying that he used those words. It is not true. He said these hate-filled things and he said them repeatedly.

When a question was raised about Haitians, for example. We have a group that was granted temporary protected status in the United States because they were the victims of crises and disasters and political upheaval. The largest group is El Salvadoran and the second is Honduran and the third is Haitian.

And when I mentioned that fact to him, he said "Haitians, do we need more Haitians?" And then he went on and he started to describe the immigration from Africa that was being protected in this bipartisan measure, that's when he used these vile and vulgar comments, calling the nations they come from shitholes. The exact word used by the president, not more, not just once, but repeatedly.
[image via screengrab/Joseph Sohm/shutterstock.com/Twitter]
Follow Colin Kalmbacher on Twitter: @colinkalmbacher
Have a tip we should know? [email protected]