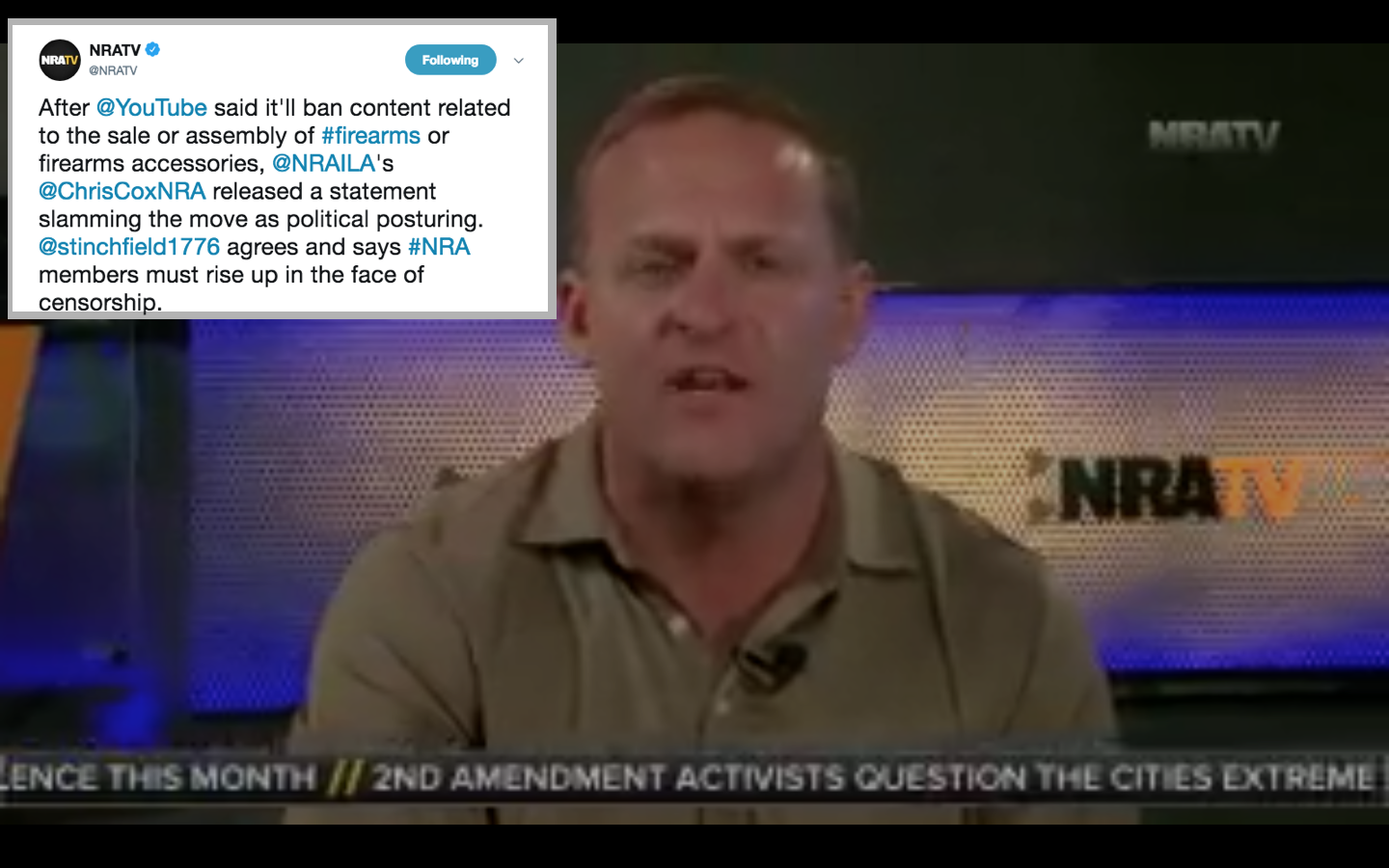 The in-house network for America's gun manufacturers, NRATV, is winking and nodding at its likely declining membership with language redolent of violence.
An official tweet sent on March 27 reads as follows:
After @YouTube said it'll ban content related to the sale or assembly of #firearms or firearms accessories, @NRAILA's @ChrisCoxNRA released a statement slamming the move as political posturing. @stinchfield1776 agrees and says #NRA members must rise up in the face of censorship.
In the video attached to the tweet, host Grant Stinchfield started off by recounting the latest editorial decision at YouTube HQ regarding certain content related to firearms. He said:
It's no secret the left has an agenda that revolves around censoring speech they don't agree with. YouTube is no different. Last week, Townhall.com reported that YouTube is censoring firearm training videos, banning channels that are run by gun companies, instructors, or even just gun enthusiasts.
Stinchfield then read a statement from NRA's Institute for Legislative Action Executive Director Chris W. Cox.
"YouTube is now in the business of political posturing and censorship. Millions of Americans watch YouTube videos every day to learn more about the safe and responsible use of firearms, and those videos show law-abiding gun owners participating in lawful behavior," he said, reading the Cox  statement. "By banning this content, YouTube is engaging in politically motivated censorship and alienating the millions of people who turn to the website for education and training."
Stinchfield commented, "I will tell you that Chris Cox is spot on and it's not just YouTube. We're seeing this among the likes of Facebook, Twitter and other media outlets. Which means we've got to fire back."
For the rest of the segment, Stinchfield implored his viewers to overwhelm YouTube with pro-gun posts and videos, which is likely now a violation of YouTube's terms of service.
The provocative statement initially went under the radar, but was highlighted yesterday afternoon by Esha Krishnaswamy with LEAP, an organization which helps draft model legislation to advance progressive policy goals while also providing on-the-ground activists with legal tools. According to Krishnaswamy, "We're like an ALEC for the left."
Law&Crime reached out to Krishnaswamy for comment on the NRATV video. She offered this response:
One must not confuse "free speech" with the "First Amendment." Websites like YouTube and Amazon Video do not have a duty to provide a platform to air all videos. In the U.S., the First Amendment clearly states, "Congress shall pass no law…" which is now interpreted to mean that the government cannot take action to restrict someone's speech without showing that it has a "compelling governmental interest." Private companies are allowed to restrict their platforms, as long as it's not discriminatory. However, in the days where a few companies are gatekeepers to a wide audience, it would behoove us to reexamine this doctrine and recognize corporate censorship may infringe upon an individual's freedom of expression.
Law&Crime also reached out to Grant Stinchfield and NRATV, but no response was forthcoming at the time of publication.
[image via screengrab/NRATV/Twitter]
Follow Colin Kalmbacher on Twitter: @colinkalmbacher
Have a tip we should know? [email protected]