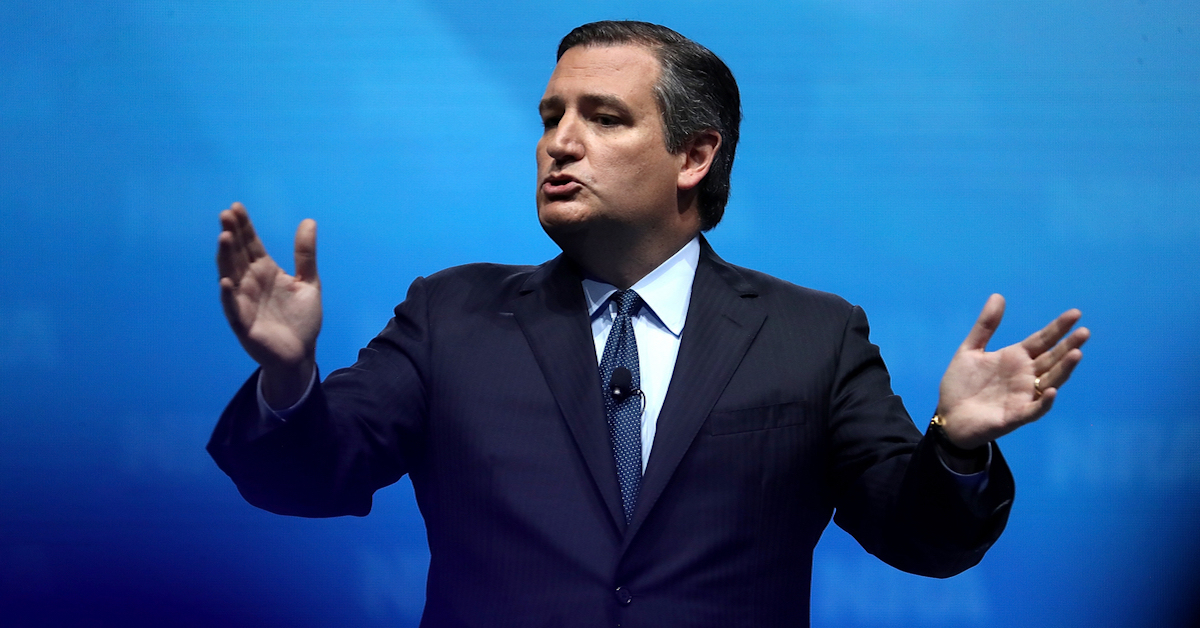 U.S. Sen. Ted Cruz (R-Texas) has filed a lawsuit against the Federal Election Commission (FEC) in a bid to overturn a portion of campaign finance law which prohibits candidates from paying themselves back with donor money in excess of $250,000.
Filed in the U.S. District Court for the District of Columbia on Monday, Cruz's 14-page complaint targets section 304 of the Bipartisan Campaign Reform Act, typically known as the McCain-Feingold Act. The statute reads, in relevant part:
Any candidate who incurs personal loans made after the effective date of the Bipartisan Campaign Reform Act of 2002 in connection with the candidate's campaign for election shall not repay (directly or indirectly), to the extent such loans exceed $250,000, such loans from any contributions made to such candidate or any authorized committee of such candidate after the date of such election.
This provision–per additional FEC regulations–also includes a 20-day grace period for personal loans made in excess of $250,000 to a candidate's campaign. In other words, if a candidate loans their own campaign over $250,000, they have an additional 20 days after election day to recoup that money from campaign contributors. Any additional loan balance left over–unpaid–after the time period, however, must be reported "as a contribution by the candidate."
According to Cruz's lawsuit, stylized as Ted Cruz for Senate v. Federal Election Commission, section 304 "restricts the political speech of candidates and their campaign committees by limiting the time period in which the candidate may raise money to communicate his or her political message and by effectively limiting the candidate's ability to lend the campaign necessary funds."
As such, Cruz argues, the repayment cap provision of McCain-Feingold is an unconstitutional violation of the First Amendment–in line with the Supreme Court's landmark decision in Citizens United v. Federal Election Commission.
Cruz's lawsuit stems from a $260,000 loan the senator himself made to his 2018 re-election campaign against then-state representative Beto O'Rourke. During that campaign, Cruz made a personal cash infusion of $5,000 to his own campaign and also took out a $255,000 "margin loan that is secured with Cruz's personal assets." In effect, Cruz took out a mortgage on his own re-election.
By the end of the 2018 campaign, Cruz's campaign committee had $2.2 million cash on hand. Meanwhile, the campaign committee, Ted Cruz for Senate, had debts in excess of $2.5 million. Opting to pay back the non-candidate creditors first, Cruz's campaign committee eventually got around to paying back the candidate himself–but still owed Cruz $10,000 by the time the 20-day period was over.
Cruz is essentially arguing for the opportunity to hit up his campaign contributors in order to pay himself an additional $10,000.
The lawsuit explains:
Since Cruz Committee has repaid the statutory maximum of $250,000 from money raised after the election toward the various loans originating from Cruz's personal bank accounts and Cruz's margin-approved brokerage account, Cruz Committee continues to owe Cruz $10,000 on the general election loans: the remaining $5,000 balance of the margin loan secured by Cruz's assets and Cruz's $5,000 personal loan.
"Absent the restrictions of Section 304 and the Commission's corresponding regulation, [Cruz and his campaign committee] would solicit debt-retirement funds from potential donors and would use post-election contributions to defray the remaining $10,000 loan balance," the petition continues.
A somewhat strident attack on the minutiae of campaign finance law, Cruz's suit alleges that "[s]ection 304 of [McCain-Feingold] and its implementing regulation are precisely the sort of laws that the First Amendment was designed to prevent" and therefore "must be struck down."
A none-too-subtle attempt to get paid, the practical import of Cruz's legal challenge was treated to a scathingly brief summary by Campaign Legal Center Director Brendan Fischer, who noted, "Ted Cruz is suing because [he] wants to take money from wealthy donors and put it directly into his pocket."
[image via Justin Sullivan/Getty Images]
Have a tip we should know? [email protected]