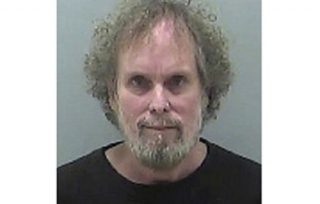 This is probably what you'd get if John Grisham wrote a pirate novel. It begins with a shipwreck in 1857 and continues in federal court to this day. Former deep-sea treasure hunter Tommy Thompson was hired in 1988 to investigate the wreckage of the S.S. Central America, which sank off the coast of South Carolina during a hurricane. The ship supposedly held thousands of pounds of gold on board, and Thompson was paid $12.7 million to find it. The 161 investors never saw a penny of Thompson's findings, which are believed to include 500 coins made from the gold on the ship. Now a judge wants to know where the missing treasure is, and Thompson isn't talking.
Two of the investors sued Thompson for stiffing them. One of them has since died. Most of the treasure was reportedly sold off to a gold marketing group in 2000 for nearly $50 million, but legend has it that Thompson's coins are still out there somewhere. In 2012, Thompson failed to appear before a federal judge, and was on the run until January 2015, when he and a female companion were caught and arrested in Florida.
Thompson pleaded guilty in April 2015 to being in contempt of court, and as part of his agreement was ordered to answer questions about the missing coins. However, he wasn't very cooperative. He once said that the coins were in a trust in Belize, but prosecutors don't seem to believe that story. Thompson has also claimed to have a neurological disorder that affects his memory, but Judge Algenon Marbley thinks he's faking, after a court-ordered psychiatric exam. Thompson stopped answering questions in December 2015, and has been held in contempt of court again ever since then. Judge Marbley told Thompson that he has to pay $1,000 for every day that he doesn't answer questions about the coins. So far, prosecutors say he owes more than $350,000.
Last month, Thompson said that he may be able to jog his memory by going through 75 boxes of documents that were in the custody of the U.S. Marshals Service. Now that he and his lawyers have had about a month to go through them, Judge Marbley says Thompson has 30 days to answer questions about the gold. The judge is hopeful that this time, Thompson will talk, and this mystery of the treasure will be solved at last. "Who knows — he might have an epiphany," Judge Marbley said. "It is the season of miracles."
[Image is 2012 photo from the Delaware County, Ohio Sheriff's Office]
Have a tip we should know? [email protected]